Looking after Louis Sullivan: Photographs, Drawings, and Fragments
June 19–December 12, 2010
Galleries 1–2, 24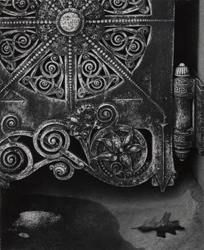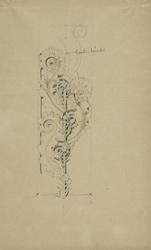 During his lifetime, Louis Sullivan was known as the father of the skyscraper and served as an important mentor to Frank Lloyd Wright and other members of the Prairie school. His work had largely fallen into obscurity in the 1930s, when a small group of historians began to identify the structural transparency and horizontal expanses of glass in his commercial building as early American manifestations of the International Style that had begun to sweep the globe. In order to fit Sullivan's work into the triumphal narrative of modern architecture, scholars had to dramatically edit his oeuvre, marginalizing his writings and residential projects, and most importantly, disavowing his use of ornament. When photographers in the 1950s began taking pictures that focused on the sensuous, abstract, and even strange beauty of the architect's facades, they brought new attention to the interpretation of his work and the importance of its preservation. In his writings, drawings, and built work, Sullivan placed ornament at the center of his architectural practice, understanding it as the locus of art, intellect, and the freedom of man's creative powers.
John Szarkowski, who would later become a renowned curator at the Museum of Modern Art, New York, found a kindred spirit in Sullivan and spent five years photographing his buildings. Independently, in fall 1952, Aaron Siskind, a teacher at Chicago's legendary Institute of Design, began directing a photographic archive of Sullivan buildings in and around Chicago, engaging a team of students eager to participate in what would come to be known as the Sullivan Project. One of these students was Richard Nickel, who ultimately made the photography—and later, as more buildings were slated for demolition, the preservation—of Sullivan's buildings his lifework. (He died while trying to rescue ornament from Sullivan's Stock Exchange Building.)
Showcasing over 60 photographs, 20 Sullivan drawings and sketches, and terracotta and metal architectural fragments, Looking after Louis Sullivan provides a rare opportunity to view Sullivan's ornament and structures across a variety of media. Together, these photographs, drawings, and fragments reflect a shared concern with the human experience of architecture and the integrity of artistic expression.
Curators
This exhibition was curated by Elizabeth Siegel, Associate Curator of Photography, and Allison Fisher, Harold and Margot Schiff Assistant Curator of Architecture.
Sponsors
Corporate support generously provided by


Foundation support provided by The Richard H. Driehaus Foundation.
---
John Szarkowski. The Getty Tomb, Graceland Cemetery, Chicago, 1890. Mary and Leigh Block Endowment. © The Estate of John Szarkowski. Courtesy of the Estate of John Szarkowski and Pace/MacGill Gallery, New York.
Louis H. Sullivan. McVickers Theater: Sketch for Unlimited Ornamental Band, c. 1883–91. Director's Fund.