John Szarkowski
American, 1925–2007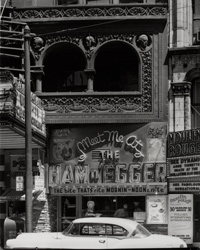 Although John Szarkowski is best known for his influential tenure as director of the Museum of Modern Art's photography department (1962–91), he also had a significant career as a photographer. He became interested in photography as a boy and held his first one-man exhibition at the Walker Art Center, Minneapolis, in 1949, before becoming a photography teacher at the Albright Art School in Buffalo, New York (where he first observed and photographed a Louis Sullivan structure, the Prudential Building). In 1953 Szarkowski moved to Chicago to continue photographing Sullivan's buildings, working various jobs until a Guggenheim Fellowship freed him to devote his time to the project. His landmark book, The Idea of Louis Sullivan, was published in 1956.
Szarkowski was initially attracted to Sullivan the man as much as to his architecture. Captivated by the dialogues in the architect's Kindergarten Chats, he wrote that Sullivan's writings "showed a man who had demanded wholeness—total humanity—with the passion of few men before or since." He felt that too much architectural photography presented isolated structures that were separate from the human life and environment that made them real. As he began to approach Sullivan's buildings, he found himself interested, as he put it, "not only with the building's art-facts but with its life-facts." With his photographs, he hoped to employ the medium as a technique not just of description but of architectural criticism.
The Idea of Louis Sullivan combined Szarkowski's photographs with Sullivan's writings, as well as words from poets, architects, and clients. Instead of disinterested images of architecture in isolation, the photographs present the buildings as integrated within the fabric of a dynamic, changing city and the ebb and flow of human lives. As Szarkowski wrote in his introduction, "The effort has not been to compile an exhaustive documentation of Sullivan's buildings, but rather to re-enliven, by means of photography, the fundamental concepts which were born in his work."
Explore a gallery of Louis Sullivan buildings still extant in Chicago.
---
John Szarkowski. The Schiller (later Garrick) Theater, Chicago, 1891–92. Mary and Leigh Block Endowment, 2001.443. © The Estate of John Szarkowski. Courtesy of the Estate of John Szarkowski and Pace/MacGill Gallery, New York.