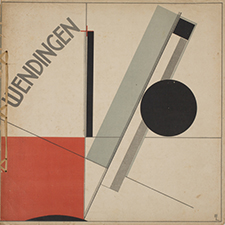 December 15, 2015–February 12, 2016
Ryerson & Burnham Libraries
This intimate library exhibition explores Wright's relationship with and influence on early 20th-century Dutch avant-garde architecture. The editors and contributors to Wendingen, a magazine that ran from 1918 to 1932, saw in Wright the embodiment of their architectural goals: cohesive structures that seamlessly unite every aspect of a building's design. Over seven issues, Dutch architects and other of Wright's contemporaries praise him and his designs, and reveal to us their vision of a society as harmonious as the buildings it erects.
---
El Lissitzky. Wendingen v. 4 no. 11 (Frank Lloyd Wright), 1921.