November 7, 2009–January 31, 2010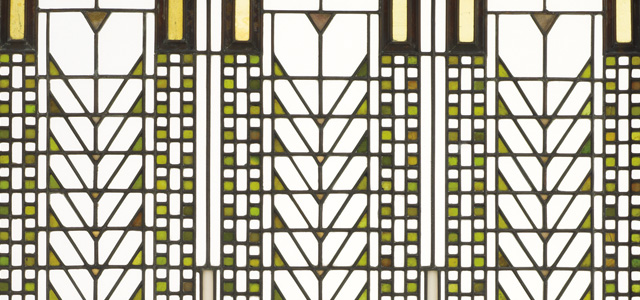 One of the most politically progressive and aesthetically compelling artistic movements of modern times, the Arts and Crafts movement sprang from a rebellion against industrial life and mass-produced objects yet eventually united hand and machine in the service of beauty. Through 187 handcrafted, organic works by the movement's most notable practitioners, Apostles of Beauty traces the movement's origins in Britain to its blossoming in Chicago's ripe reform environment. Highlighting a wide range of objects, including ceramics, furniture, metalwork, paintings, photographs, and textiles, the exhibition—the first to explore Arts and Crafts in over three decades—allows visitors the rare opportunity to see the movement unfold in the city where it reached its full manifestation and where many of its treasures still reside.
---
Frank Lloyd Wright. Tree of Life Window (detail) from the Darwin D. Martin House, 1904. Gift of the Antiquarian Society through the Mrs. Philip K. Wrigley Fund.