English Beginnings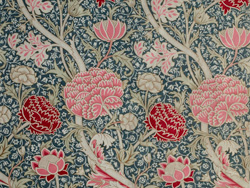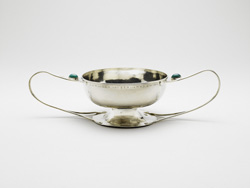 The roots of the Arts and Crafts movement trace back to the mid-19th century, when reformers, seeking to express a sense of mysticism and faith, were drawn to art forms and techniques associated with Roman Catholicism. Architect and designer Augustus Welby Northmore Pugin embraced the religion, finding in it a connection to the medievalism that influenced his designs. Pugin imagined the Gothic world, with its great cathedrals and art dedicated to God, as a society in which individual talent and craft were honored.
Influenced by Pugin and also the Gothic-inspired writings of John Ruskin, William Morris was the single most influential figure in the early Arts and Crafts movement. In the spring of 1861 he founded Morris, Marshall, Faulkner and Company, a professional design partnership that worked to erase the division between fine art and craft. Renamed Morris and Company in 1875, the company undertook architectural carving, embroidery and other textiles, furniture design, hand-printed wallpapers and books, metalwork, painted mural decoration, and stained glass. Morris's wife, Jane Burden, executed many of the firm's embroideries; their youngest daughter, May, eventually became head of the embroidery department in 1885.
In addition to honoring the union of work, craft, and the dignity of the artisan, Morris believed that a rebirth of craftsmanship would create a leveling influence on Britain's class system. Similarly, Charles Robert Ashbee believed that workers' guilds (often based on medieval prototypes) could provide an escape from poverty and lead to social improvement. In 1888 he founded an art and technical school called the School and Guild of Handicraft. The guild's earliest works are metal objects based on medieval forms; however, Ashbee soon turned to rustic 17th- and 18th-century furniture models. This shift represented a larger change in the Arts and Crafts movement, as medieval templates began to be replaced by more practical, affordable, country styles.
---
William Morris. Two Panels Entitled "Cray" (detail), 1885. Gift of Mrs. Charles F. Batchelder.
Charles Robert Ashbee. Loop-Handled Dish, Designed c. 1900; Made 1902/03. European Decorative Arts Purchase Fund.