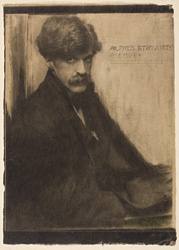 Between 1903 and 1915, the Craftsman repeatedly featured articles on the specific practice of artistic photography known as pictorialism, a movement dedicated to promoting photography as a fine art. To do so, practitioners emphasized their creative impulses in composing their shots, and they perfected their skills in the darkroom, often hand working their negatives or prints to achieve the most beautiful results. The aims of pictorialists and craftsmen were not always in complete harmony, but there were considerable resonances between the goals of photographers and the ideals of the Arts and Crafts movement. Like craftsmen, many pictorialists displayed an interest in the people and artistic styles of other cultures, most notably Japanese and Native American art and traditions. Others explored themes drawn from domesticity, nature, and rural life, as seen in Alfred Stieglitz's Net Mender.
Stieglitz, a photographer, gallery owner, and art collector, was one of the foremost advocates for photography as an artistic medium. In 1902 he organized the Photo-Secession as a means of showcasing the best examples of pictorialist photography. Gertrude Käsebier's portrait of Stieglitz captures his serious demeanor and resolute gaze—characteristics intensified by the deliberate softness of the background where Käsebier brushed away the platinum emulsion. Such handwork reveals the artist's dedication to the craft of photography. Like the female artisans who joined craft guilds in hopes of fulfilling their creative expression, women such as Käsebier took up the camera in considerable numbers.
---
Gertrude Kasebier. Alfred Stieglitz, 1906. Alfred Stieglitz Collection.