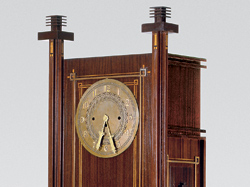 The Prairie school describes the midwestern architects and designers whose works are based on the rhythms and colors of nature, and whose low, broad buildings seem to hug the earth, emulating the vast horizon line of the midwestern prairie. The movement was born in Chicago, founded by those influenced by Louis Sullivan, and disseminated through urban magazines such as House Beautiful aimed at affluent middle-class suburbanites. Like British Arts and Crafts architects, Prairie school practitioners valued clear, precise forms and the texture and expression of materials. However, Prairie school designers rejected historical revivalism in favor of the massing of spaces, long, low-hipped roofs, and stylized and abstracted natural patterns. Architects such as George Grant Elmslie and Frank Lloyd Wright redefined the template of the modern home, revamping not only the exterior but also all aspects of interior detail and furniture.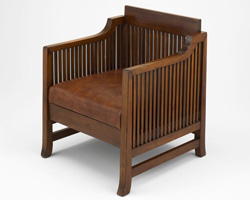 A charter member of the Chicago Arts and Crafts Society, Wright supported the group's handcrafted works and annual exhibitions at the Art Institute. Nevertheless, he believed that the machine could help an architect achieve a singular vision. Wright's chair from 1902/06 displays repeated machine-made vertical elements softened by the curved shoulder and feet, adding a sophisticated lightness and fluidity that is lacking in its British and American counterparts. Unlike the British philosophers he admired, who thought that the process of creation would save the soul of the worker, Wright considered the beauty of the end product to be far more important than the process of making it. He and others in Chicago thus embraced a progressive attitude toward the machine that distinguished their expression of the Arts and Crafts movement.
Indeed, the Arts and Crafts movement—and, in particular, the contributions of Chicago-based artists and designers before the war—can be seen as a predecessor to a number of modern ideas. It broke down barriers among architects, craftsmen, designers, graphic artists, painters, and sculptors—between the so-called fine and applied arts. Attempting to provide a universal market that transcended class or nationality, the movement became integrated into the new age of advertising, commercial competition, and the marketing of culture.
---
George Grant Elmslie. Made by Niedecken-Walbridge. Clock face modeled by Kristian Schneider. Clock hands made by Robert Riddle Jarvie. Tall Clock, 1912. Made for the Henry B. Babson House, Riverside, Illinois.
Frank Lloyd Wright. Spindle Cube Chair (detail), 1902/06. Restricted gift of the Antiquarian Society; Roger McCormick Purchase, Alyce and Edwin DeCosta and the Walter E. Heller Foundation, Robert Allerton Purchase Income, Ada Turnbull Hertle, and Mary Waller Langhorne Memorial funds; Robert Allerton Trust; Pauline Seipp Armstrong Fund; Bequest of Ruth Falkenau Fund in memory of her parents; Mrs. Wendell Fentress Ott, Bessie Bennett, Elizabeth R. Vaughn, and Gladys N. Anderson funds; Estate of Stacia Fischer; The Goodman Fund; Maurice D. Galleher Endowment; Samuel P. Avery and Charles U. Harris Endowed Acquisition funds; Estate of Cora Abrahamson; Charles R. and Janice Feldstein Endowment Fund for Decorative Arts.