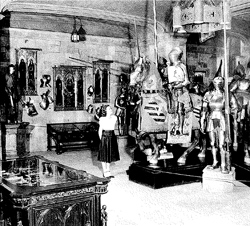 In the first few decades of the 20th century, George F. Harding Jr., a colorful figure in Chicago business and politics, assembled an enviable collection of arms and armor at a time when others, including William Randolph Hearst and institutions such as the Metropolitan Museum of Art in New York and the Cleveland Museum of Art, provided stiff competition. In 1927 Harding added a two-story annex to his home on the city's South Side to showcase his ever-expanding collection. The annex was built as a Gothic Revival stone turret, complete with cannonballs embedded in the exterior walls. Harding spent several months each year in Europe, eagerly scouting out new prizes, buying from dealers and sometimes directly from noble families. Soon, his "castle museum" contained armor that had once belonged to Austrian emperors, the royal house of Saxony, the Russian czars, the princes of Liechtenstein and Radziwill, and the English royal family. Following his death in 1939, his museum remained open for several decades, until the castle was demolished during an urban renewal project. The collection was finally transferred to the Art Institute in 1982, fulfilling Harding's initial intention to offer the collection to the people of Chicago.
Read more about George F. Harding, Jr.
---
The Old Gallery in Harding's "castle," with its standing and mounted armors.