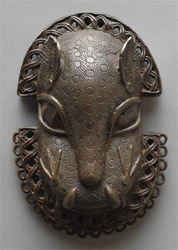 Within the highly stratified court of Benin, rank is indicated through diverse forms of regalia and the materials from which they are made. The oba, or sacred monarch, is the apex of the hierarchy. High-ranking chiefs, some who hold hereditary titles and others who earned their rank by adroitly maneuvering within the royal sphere, balance his power. The village chiefs, or uzama, include seven hereditary titles, such as the ezomo, a top-ranking war chief, that date to the earliest days of the present dynasty. Long ago they were responsible for the installation of the oba, and at times they have stood in opposition to him.
The town chiefs (eghaevbo n'ore) are self-made men whose titles, until recently, could not be inherited. In the past they led the military, and they continue to advise on state affairs.
The palace chiefs (eghaevbo n'ogbe) include three associations that are organized by their roles at court. The Iwebo association includes the royal artisan guilds, along with servants as diverse as dancers, drummers, astrologists, meteorologists, cannoneers, leopard hunters, and horn blowers. The Iweguae association, composed of the oba's pages, sword bearers, bodyguards, physicians, diviners, and various ritual specialists, is responsible for the oba's household and personal needs, while the Ibiwe association provides similar care for the oba's wives and children.
Explore more works related to this theme.
---
Waist Pendant of a Leopard's Head, 17th/18th century. Edo; Benin Kingdom, Nigeria. The National Commission for Museums and Monuments, Nigeria, 47.21.4.