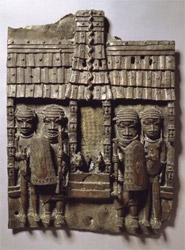 The oba's vast palace complex is the administrative and religious heart of the Benin Kingdom. It has stood in the same location in Benin City for at least 700 years, though its size has expanded and contracted over time. As the home of a long succession of divine rulers, it is a sacred place. From here the oba oversees the kingdom's affairs with the assistance of chiefs, religious specialists, court officials, and attendants.
The Dutch geographer Olfert Dapper's description of the oba's palace, based on 17th-century Dutch travelers reports, is the earliest known account of the impressive complex. Dapper wrote, "It is divided into many magnificent palaces, houses, and apartments of the courtiers, and comprises beautiful and long square galleries…resting on wooden pillars, from top to bottom covered with cast copper, on which are engraved the pictures of their war exploits and battles." As Dapper observed, thousands of elaborate brass bas-relief plaques embellished the palace buildings. Today these plaques are an invaluable source for reconstructing and interpreting the kingdom's hierarchy, history, and rituals.
Explore more works related to this theme.
---
Plaque of a Palace Interior, 16th/17th century. Edo; Benin Kingdom, Nigeria. Staatliche Museen zu Berlin, Ethnologisches Museum, III C 8377.