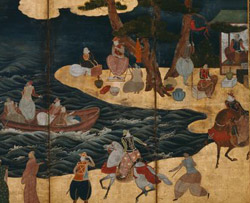 From 2006 to 2007, the Art Institute's Southern Barbarians screens were completely remounted in Japan at the studio of Handa Kyuseido Company, Ltd., under the direction of Handa Masaki. Restoration is a common practice, necessary to insure the stability of the work of art. The panels were separated, and the fabric borders and outer lacquer frames were removed. Loose or flaking pigments were consolidated with adhesive, and blotting paper was used to clean off any dirt. The painting layer was removed to reveal the underlying paper used as core material when the screens were last remounted. Areas of loss were patched and toned with color, and if these losses appeared in gold areas, aged gold leaf was used. A fresh wood and paper core was built before the painting was reattached. New border silks, backing papers, and a lacquer frame were carefully chosen, and as much as possible, the metal fittings were reused.
Take a detailed look at photographs illustrating the steps involved in the repair and restoration process.
---
Southern Barbarians (detail), mid 17th century. Japan. Robert Allerton Endowment Fund.