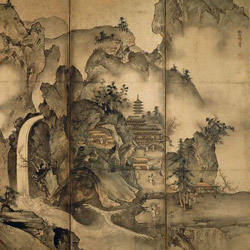 The folding screen was originally a Chinese or Korean import, and the earliest extant byobu in Japan—from the 8th-century imperial Shosoin repository in Nara—feature Chinese subjects and texts decorating their surfaces. While Japanese screens came to feature native art forms, Chinese subject matter and styles continued to appear on their surfaces. In particular, Chinese characters, texts, and calligraphy have long occupied an important place in Japanese screens. Nukina Kaioku's Calligraphy of a Shi Poem by Li Bo and Ci Lyric by Su Xiang in Cursive Script for example, features two carefully chosen Chinese poems and was likely made for display at his Confucian academy.
Landscapes form another important Chinese subject on Japanese screens. Works from the 16th and 17th centuries, such as Sesson Shukei's Landscape of the Four Seasons and Kaiho Yusho's Landscape represent the visions of Zen monk-painters who followed a sect of Buddhism with origins in China. Ink bamboo was also a prevalent Chinese motif found on Japanese screens, as seen on several works in the exhibition from the 18th through 20th centuries.
Noguchi Shohin's Orchid Pavilion of 1900 shows a Chinese calligrapher, Wang Xizhi, at a famous literati gathering that took place in 353 near present-day Shaoxing, China. On the reverse of the screens the artist has painted another Chinese subject of geese and reeds. Although Chinese learning had been the purview of men, Shohin's erudition shows that there were increased opportunities for women as part of the modernization process.
---
Sesson Shukei. Landscape of the Four Seasons (detail), c. 1560. Gift of Joseph and Helen Regenstein Foundation.