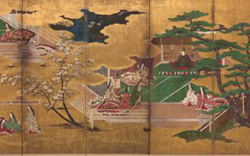 If the lustrous screens of Beyond Golden Clouds have piqued your interest in Asia's rich artistic traditions, consider joining the Asian Art Council.
Through lectures, demonstrations, gallery walks, and visits to private collections, the Asian Art Council acts as a forum for education and discussion about Asian art. The group's dues and fundraising functions support the Department of Asian Art's acquisitions.
To learn more about the Asian Art Council or to join now, click here.
---
The Tale of Genji (detail), early 17th century. Gift of Robert Allerton in honor of Mr. and Mrs. William McCormick Blair's fiftieth wedding anniversary.