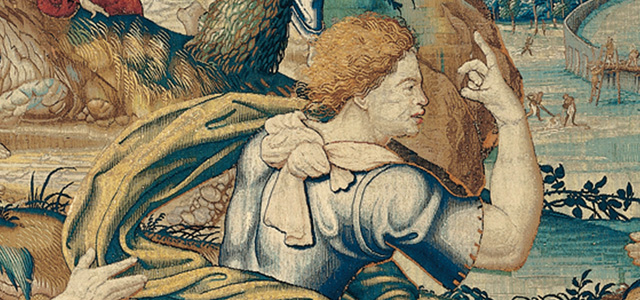 For the first time in the history of the Art Institute, nearly all of its unparalleled tapestry collection is featured in a spectacular presentation. After decades in storage, these monumental artworks were subject to one of the largest tapestry conservation projects ever undertaken by a private workshop. Freshly conserved to their full splendor, The Divine Art's 70 masterpieces will only be on view for two months and then will return to storage, so be sure to catch these majestic works at their best—dazzling the eye beyond expectation.
Plan your visit today.
---
Pomona Surprised by Vertumnus and Other Suitors from "The Story of Vertumnus and Pomona" (detail), 1535/40. Brussels, Flanders. Gift of Mrs. Charles H. Worcester.