1972–1989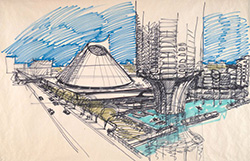 River City was Bertrand Goldberg's most comprehensive urban project, marrying great social experiment—his "democracy through architecture"—with the modest goal of creating a walk-to-work culture in Chicago. Based on his long-standing principle of mixed-use construction, Goldberg's original scheme for River City (River City I) combined residential, commercial, recreational, and educational facilities for over 20,000 people on 230 acres of underused land just south of the Loop. This area had been targeted for redevelopment since the 1960s, and Goldberg consulted a large number of experts in order to plan a corrective to the loss of population, social erosion, declining tax revenue, and physical neglect of the city center.
In the era of the Sears Tower and other supertall skyscrapers, River City I included nine 72-story triad tower groups that were once among the tallest residential buildings in the country. In keeping with theories of group dynamics, Goldberg further subdivided each triad into three semi-independent, horizontal communities with bridge levels connecting the towers every 18 floors. Forming the "bridge to neighborhood," these levels provided each community with its own post office, local shops, and primary school; an expanded range of services was housed in the large base plinth. After River City I failed to gain approval in 1977, Goldberg created a new design for mid-rise housing in a serpentine plan, built as River City II between 1983 and 1986. This complex includes one of the most impressive interiors of his career—a vast nine-story atrium providing light, balconies, and community space within the large structure. Goldberg reworked plans to expand River City throughout the 1980s, resulting a body of visionary drawings that combine his serpentine and tower schemes in a rich landscape of marinas and green space.
---
Bertrand Goldberg. River City IA, Chicago, IL, Perspective Sketch, c. 1986. The Art Institute of Chicago, Archive of Bertrand Goldberg, gift of the Goldberg Family, RX23664/113.696.