September 17, 2011–January 15, 2012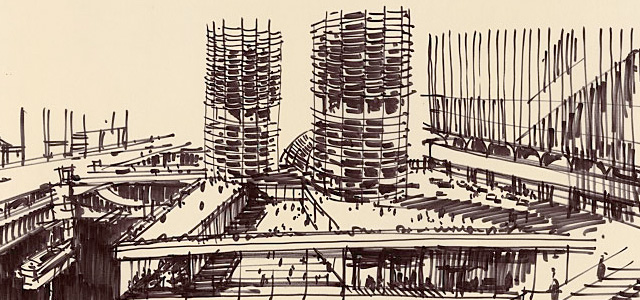 Architect Bertrand Goldberg's dramatic sculptural forms and innovative engineering have long been recognized as seminal contributions to the built environment of Chicago, most notably his groundbreaking design for Marina City (1959–1967). This exhibition, the first comprehensive retrospective of the architect's work, positions Goldberg's career within a broad historical framework that extends from his experimental origins at the Bauhaus in Germany and the 1933 Century of Progress Exposition to his visionary plans for the postwar American city.
---
Bertrand Goldberg. Marina City, Chicago, IL, perspective sketch (detail), 1985. The Art Institute of Chicago, Archive of Bertrand Goldberg, gifted by his children through his estate, RX23664/75.57.