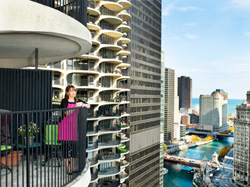 For more than two years, Iker Gil and Andreas E. G. Larsson documented the lives of residents in Bertrand Goldberg's iconic Marina City (1959–67). Celebrating the architect's original vision for affordable apartments in a central, high-density location, this exhibition provides a rare behind-the-scenes view of the diverse array of people and living spaces within the popular cylindrical residential towers.
Gil and Larsson's illuminating compositions reflect their respective training and professional interests. Spanish-born Gil is a Chicago-based architect and founding principal of MAS studio whose research-based portfolio includes buildings, public spaces, and more theoretical projects. Larsson, a Swedish-born photographer now residing in Los Angeles, is known for his visually expressive portraits of musicians, dancers, and other creative people, which have been featured in publications such as i-D, GQ, Nylon, and The New York Times.
Drawing on their individual backgrounds, the photographers explored the relationships between Goldberg's rigorous modular framework for the apartments and the gradual, informal development of the interiors by their inhabitants. Unlike the vacant landscapes of traditional architectural photography or the scripted architectural scenes of such masters as Julius Schulman, Gil and Larsson's Marina City "portraits" let the apartment dwellers speak for themselves. The result is a rich portfolio of images that pay tribute to Goldberg's visionary architecture and affirm his place in Chicago's rich architectural history, while emphasizing the inhabitants who bring these spaces to life.
This exhibition is made possible by the generous support of the Architecture & Design Society. Additional sponsorship is provided by the Print Lab.
---
Andreas E.G. Larsson. Untitled (Chicago, Illinois), 2009. Courtesy of the artist.