Historic Collections: Charles Deering, Mrs. Chauncey McCormick, and Mrs. Richard E. Danielson

Learn more about Charles Deering and his daughters Mrs. Chauncey McCormick and Mrs. Richard E. Danielson, important benefactors of the Art Institute and significant donors to the museum's collection.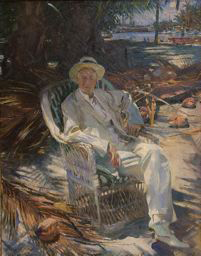 One of the most important benefactors of the Art Institute's collection was the industrialist and amateur artist Charles Deering (1852–1927), whose family business produced farm equipment. A merger with McCormick Harvester Company in 1902 created the International Harvester Company, still in operation today. Both Charles and his younger brother James (1859–1925) passionately amassed works by the Old Masters as well as painters of their own day. James collected 15th- to 19th- century art for his mansion, Vizcaya, in Miami, Florida. Charles preferred to fill Marycel, his mansion in Stiges, Spain, with works of Spanish masters, such as El Greco, who were largely ignored by collectors and art historians at the turn of the century. In 1910, Charles contributed funds that helped make it possible for the Art Institute to acquire El Greco's Assumption of the Virgin. Trustees, including Martin A. Ryerson, had obtained this extremely important painting by subscription for the museum four years earlier on the advice of American artist Mary Cassatt. Later, additional funds from Nancy Atwood Sprague completed the acquisition.
In 1924, Charles Deering gave his collection to his two daughters, Marion Deering McCormick (Mrs. Chauncey, 1886–1965) and Barbara Deering Danielson (Mrs. Richard, 1888–1987). The women donated many works to the Art Institute in the decades following their father's death, including one of the most beloved of the Art Institute's paintings, Spanish artist Bernat Martorell's Saint George Killing the Dragon, in addition to paintings by Francisco de Zurbarán and El Greco. Upon his death, James Deering also left his collection to Charles's daughters, his nieces, who donated several of these works to the Art Institute. Gifts from Deering and McCormick family descendants continue to enhance the museum's collection. The Freedman by John Quincy Adams Ward was purchased with funds from the Roger McCormick Endowment in 1998.
---
John Singer Sargent. Portrait of Charles Deering, 1917. Anonymous loan.