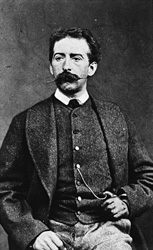 A Self-Taught Artist
Winslow Homer never received a formal artistic education. Raised in Cambridge, a rural suburb of Boston, he learned to love the outdoors and cherish his independence. His mother, Henrietta Benson Homer, a talented amateur watercolorist, taught her son to draw and paint, but unstable family finances prevented him from studying in a professional art academy. Instead Homer received his early training as an apprentice in the lithographic printing shop of John H. Bufford and Sons in Boston, where for two years he drew sheet-music covers and other popular imagery.
When his apprenticeship ended in 1857, Homer embraced the life of a freelancer, later boasting, "From the time I took my nose off that lithographic stone, I have had no master and I never shall have any." He began to support himself as a designer of wood engravings for illustrated newspapers, producing eye-catching black-and-white drawings of contemporary subjects. In 1859 Homer moved to New York, the headquarters of the magazine Harper's Weekly, where he worked as an illustrator. Determined to become a painter, he briefly studied oil painting and life drawing. About this time, he also developed a fascination with modern color theory when his brother Charles gave him a copy of Michel-Eugène Chevreul's Principles of Harmony and Contrast of Colors.
The unfolding events of the Civil War accelerated Homer's career as a painter by offering him compelling new subject matter. His wartime paintings and journal illustrations brought Americans unsentimental pictures of Union battlefields, camps, and military hospitals and also explored the effect of the war on civilians.
Like many young artists of his generation, Homer was drawn to Paris, where two of his paintings were shown at the Exposition Universelle of 1867. Although resolutely impervious to outside influences, he felt an immediate connection to the work of Barbizon School artists such as Jules Breton and Jean-François Millet, who painted richly colored, spiritually charged agrarian images.
Homer's self-education and early work in black and white directly impacted his later practice in watercolor. As an illustrator, he developed a sophisticated understanding of light and dark values, learning to manipulate the shades between black and white to convincingly suggest color and light. He had little respect for traditional rules that governed oil painting and ultimately found watercolor liberating.
---
Bautain. Portrait of Winslow Homer, 1867. Bowdoin College Museum of Art, Brunswick, Maine, gift of the Homer family.