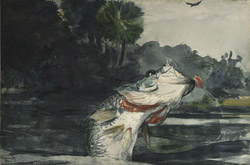 Watercolors by Winslow Homer: The Color of Light
February 16–May 10, 2008
Regenstein Hall and Galleries 271–273
Tickets are required for this exhibition. Art Institute members do not need tickets.
Winslow Homer, who created some of the most breathtaking and influential images in the history of watercolor, was, famously, a man who received almost no formal artistic education. Acknowledged in his own day as America's most original and independent watercolorist, he had an intuitive relationship with this challenging yet flexible medium. Between 1873 and 1905, he created nearly 700 watercolors. A staple of his livelihood, watercolors were also his classroom, a way for him to learn through experimentation—with color theory, composition, materials, optics, style, subject matter, and technique—far more freely than he could in the more public and tradition-bound arena of oil painting. This exhibition provides an intimate look at how one of America's most celebrated painters discovered for himself, over a period of more than three decades, the secrets of the watercolor medium.
Watercolors by Winslow Homer: The Color of Light—which was organized by the Art Institute and will be shown exclusively in Chicago—is the largest exhibition of Homer's watercolors to be presented in more than two decades. It features 25 rarely exhibited Homer watercolors from the Art Institute's collection, set in the context of watercolors, drawings, prints, and oil paintings on loan from other museums and private collections. A total of 130 works tells the story of Winslow Homer's development as an artist, presenting an intimate look at his watercolor practice, his techniques and materials, and the way he adapted his approach and his color palette to the many different natural environments in which he painted, from the rocky, deserted coast of Maine to the lush habitats of the Adirondack Mountains and the Caribbean. The exhibition also examines the way Homer's watercolors relate to his work in oil and other media, revealing the central role the medium played in helping him to achieve the fresh, immediate, light-filled scenes that have become his most enduring legacy to American art.
This project is the result of collaboration between curators, researchers, conservators, and conservation scientists. The latest analytical technology has been used to examine the Art Institute's watercolors, enabling the exhibition and catalogue to present much new and information about his pigments and his artistic intentions, revealing fascinating details about what lies below their surfaces. Make sure to visit the conservation section of this Web site, which uses high-resolution images and in-depth analyses to examine Homer's tools, techniques, and works in minute detail.
Catalogue
A beautifully illustrated catalogue also accompanies the exhibition. Published by the Art Institute in association with Yale University Press, the volume presents essays by exhibition curator Martha Tedeschi and conservator Kristi Dahm and includes contributions by Judith Walsh and Karen Huang. The catalogue will be available in February for purchase in the Museum Shop.
Organizers
This exhibition is organized by the Art Institute of Chicago.
Curators
Watercolors by Winslow Homer: The Color of Light is curated by Martha Tedeschi, curator in the Department of Prints and Drawings. The exhibition catalogue includes essays by Martha Tedeschi; Kristi Dahm, assistant conservator of prints and drawings; Karen Huang, research and exhibition assistant; guest author Judith Walsh, associate professor, art conservation program, Buffalo State College; and a preface by James Cuno, President and Eloise Martin Director of the Art Institute of Chicago.
Other Venues
Because watercolors are vulnerable to fading when exposed to light over long periods of time, the Art Institute of Chicago will be the exclusive venue for this exhibition.
Sponsors


Terra Foundation for American Art is the Lead Foundation Sponsor as part of American Art American City, a Chicago celebration of historical American art.



Harris is the Lead Corporate Sponsor.
Additional support has been generously provided by the Jane Ellen Murray Foundation and the Community Associates of the Art Institute of Chicago.
Support for the catalogue has been generously provided by The Elizabeth F. Cheney Foundation.
Thank you to our cultural partners:
Blick Art Supply, Crate and Barrel, Millennium Park Grill, The Gage, Rhapsody, and Bennigans.
---
Winslow Homer. Life-Size Black Bass, 1904. Bequest of Brooks McCormick.