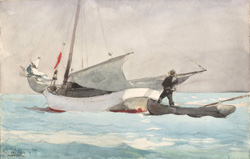 If you would like to learn more about the art and life of Winslow Homer, the Ryerson librarians have worked with the curators to put together a reading list. These books are available on a special shelf in the Ryerson Library.
Information on hours and access to the Ryerson library available here.
Reading List
Beam, Philip, et al. Winslow Homer in the 1890s: Prout's Neck Observed. Exh. cat. Memorial Art Gallery, University of Rochester/Hudson Hills Press, 1990.
Cikovsky, Nicolai, Jr. and Franklin Kelly. Winslow Homer. New Haven: Yale University Press, 1995.
Cohn, Marjorie B. Wash and Gouache: A Study of the Development of the Materials of Watercolor. Cambridge, MA: Fogg Art Museum, 1977.
Conrads, Margaret C. Winslow Homer and the Critics: Forging a National Art in the 1870s. Princeton, NJ: Princeton University Press, 2001.
Cooper, Helen A. Winslow Homer Watercolors. New Haven: Yale University Press, 1986.
Ferber, Linda S. and Barbara Dayer Gallati. Masters of Color and Light: Homer, Sargent, and the American Watercolor Movement.Washington: Smithsonian Institution, 1998.
Goodrich, Lloyd and Abigail Booth Gerdts. Record of Works by Winslow Homer. 2 vols. New York: Spanierman Gallery, LLC, 2005.
Junker, Patricia. Winslow Homer: Artist and Angler. New York: Thames and Hudson, 2003.
Reed, Sue Welsh and Carol Troyen. Awash in Color: Homer, Sargent, and the Great American Watercolor. Boston: Museum of Fine Arts, 1993.
Tatham, David. Winslow Homer in the Adirondacks. Syracuse: Syracuse University, 1996.
Exhibiton catalogue
Tedeschi, Martha, and Kristi Dahm, with contributions by Judith Walsh and Karen Huang. Watercolors by Winslow Homer: The Color of Light. New Haven and London: The Art Institute of Chicago/Yale University Press, 2007.
Also available at the Museum Shop.
---
Winslow Homer. Breaking Storm, Coast of Maine, 1894. Mr. and Mrs. Martin A. Ryerson Collection.