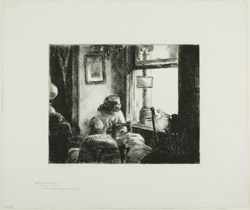 Between 1900 and 1905, Hopper attended the New York School of Art, where he was considered one of the best students of the legendary teacher Robert Henri. In the next five years, he made three trips to Paris, where he admired the French Impressionists' efforts at capturing light and began a career-long engagement with the style. Hopper's travels in Europe so altered his technique and choice of subjects that he claimed it took him a decade to get over it. From 1910 to the early 1920s, the artist found few opportunities to exhibit his work and attracted almost no critical attention. In fact, he sold only one painting before the age of 41. During this time, he was forced to earn a living through commercial illustration, a profession he loathed, but one that afforded him practice in creating complex arrangements of figures within detailed settings. "Art is like life itself," Hopper later declared. "It's a lot of hard work."
In 1915 Hopper began printmaking, which allowed him greater creative freedom while still providing some income. Etching helped to hone his skills as a graphic artist and encouraged him to refine his compositions. He admired Old Master printmakers, including Rembrandt van Rijn and Franciso de Goya, as well as more recent artists, such as James McNeill Whistler, and his prints reflect their influence. East Side Interior, one of his most accomplished early etchings, demonstrates his veneration of the Old Masters.
By 1923 Hopper's prints were selling well, and that year he won the Art Institute of Chicago's Logan Prize for East Side Interior. At the same time, he finally began to garner critical acclaim and find buyers for his oils and watercolors, and he moved away from printmaking as a result. Still, he valued the significant role printmaking had played in his artistic formation, observing that after he began making etchings, his "paintings began to crystallize."
Gradually, as his work became less reliant on his art-school mentors and European experiences, Hopper formulated his mature style. Artistic themes that persisted throughout his career began to appear in his prints and paintings, including strong contrasts between light and shadow, vernacular architecture, views through windows, and isolated figures, such as the woman in front of a window in East Side Interior. "In every artist's development, the germ for the later work is always found in the earlier," Hopper said. "What he once was, he always is, with slight modifications."
---
Edward Hopper. East Side Interior, 1922. Terra Foundation for American Art, Daniel J. Terra Collection.