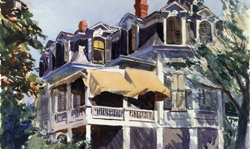 Beginning in 1923, Hopper spent four summers in Gloucester, Massachusetts, a hardscrabble fishing town that also hosted a lively artist colony. Painters as diverse as the Impressionist Childe Hassam and the Modernist Stuart Davis portrayed the town's picturesque sea views. Hopper, ever the individualist, sought other themes. "When everyone else would be painting ships and the waterfront," he said, "I'd just go around looking at houses."
During his first summer in Gloucester, he embraced watercolor, a medium he had previously used primarily for commercial work. The structures he chose to paint were not the spare colonial buildings that attracted Modernist artists but the later Victorian homes, which were ridiculed in the 1920s for their opulent forms and ornament. Houses—such as the example depicted in The Mansard Roof—gave Hopper an opportunity to portray complex effects of light and shadow, one of his favorite subjects. Though accurate in all architectural details, this work is nonetheless engagingly abstract, with dancing strokes of watercolor converting the building into a flickering pattern of light and shadow, similar to the Impressionist pictures he had admired in Paris. This free use of paint differs from his approach to later watercolors, in which his more controlled handling creates a sense of stillness.
Despite the unfashionable nature of this theme, Hopper's images of Victorian buildings in Gloucester provided him with his first critical and commercial success. Encouraged by his future wife, artist Josephine Nivision, whom he met in 1923, he submitted his watercolors to an exhibition at the Brooklyn Museum that year. The museum accepted six and bought one—The Mansard Roof. It was Hopper's first sale of a painting in 10 years. The following year Frank K. M. Rehn agreed to represent the artist at his New York gallery, the leading venue for contemporary American realist art at the time. Hopper's shows there, featuring his Gloucester output, were praised by critics, and his works sold quickly. Yet by the end of the decade, he felt he had exhausted the town's subject matter, and, although he produced some of his most complex watercolors there that year, in 1928 he spent his last summer at Gloucester.
---
Edward Hopper. The Mansard Roof, 1923. Watercolor over graphite on paper. Brooklyn Museum; Museum Collection Fund.