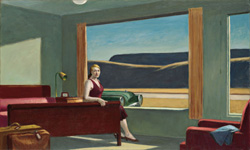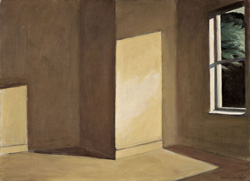 The last decades of Hopper's career were filled with awards, fellowships, honorary degrees, and in 1950 a universally acclaimed retrospective at the Whitney Museum of American Art in New York. In an era marked by the ascendancy of abstract painting, he remained a staunch realist and was one of only a few painters to be applauded for his continuing fidelity to a representational style. In fact, several critics even paired Hopper with Jackson Pollock as the two greatest painters of the age. At the same time, his production slowed to one or two pictures a year. He struggled to find both new themes and novel ways of presenting the subjects for which he had become famous: women in interiors, isolated buildings seen at dawn or dusk, and sunlight on the sides of houses.
In his last decades, Hopper found his best inspiration outside New York—on the West Coast or in transit. In Western Motel, he treated the new motels appearing along highways in the 1950s. The woman in the painting gazes with poised detachment, like a model in an advertisement for luggage, cars, or motels. She is Hopper's only subject to look directly at the viewer. The scene evokes the vast expanse of the West, the newness of long-distance driving, the impermanence of motel life, and the anonymity of the traveler. In his last years, travel became one of Hopper's favorite themes. "To me the important thing is going on," he said in 1956. "You know how beautiful things are when you are traveling."
While some of Hopper's paintings of the 1950s and 1960s are somewhat repetitive and predictable, his best pictures from this period are marked by an increasing solemnity and weight. The artist's late work culminated in Sun in an Empty Room, painted in 1963, four years before the artist's death at age 84. When asked about the subject of the painting, Hopper responded, "I'm after me." He simplified the composition so that it is nearly abstract and entirely about light and shadow. The picture, composed of tender brushstrokes that create the impression of shimmering light, shows a room not yet occupied or—perhaps more likely given Hopper's advanced age—recently vacated. It is the product of synthesis, memory, and imagination, suggesting rather than documenting the artist's "most intimate impression of nature." In many ways, this work sums up his career. Although it is austere, it is not bleak. It is radiant and evocative. At this point in his life, Hopper had distilled his artistic vision down to light itself.
---
Edward Hopper. Western Motel, 1957. Oil on canvas. Yale University Art Gallery; bequest of Stephen Carlton Clark, B. A. 1903.
Edward Hopper. Sun in an Empty Room, 1963. Oil on canvas. Private collection.