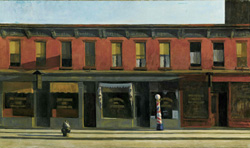 Edward Hopper
February 16–May 10, 2008
Regenstein hall and Galleries 262–265
Tickets are required for this exhibition. Art Institute members do not need tickets.
From the time of his first solo museum show at the Museum of Modern Art in New York in 1933, Edward Hopper was an American icon. Even later in his long career, as other artists began to adopt Abstract Expressionism, he continued to work slowly and methodically in a realist mode, drawing inspiration from both the old Victorian houses of small New England towns and the mundane, quotidian world of the city, featured in such famous paintings as the Art Institute's Nighthawks.
Hopper's compositions offer a frozen moment, a glimpse of life viewed in passing from a moving elevated train or nearby street corner. He was a consummate spectator, showing us fresh views of waitresses through restaurant windows, theatergoers reading playbills, and women in front of windows undressing or staring out into the summer sunlight. His buildings take on a life of their own; their angles, defined by shadows bathed in purple and green, shape his compositions. A superb colorist, Hopper carefully used different hues to structure his landscapes, buildings, and interiors. He successfully combined these lush colors with geometric shapes drawn from Cubism to create his own brand of modernist expression—one evocative of light and mood. His paintings also reflect his love of American literature and film, which filled his canvases with understated drama.
Edward Hopper presents 90 paintings, prints, and watercolors that span the artist's career, emphasizing his most productive years in the 1930s and 1940s. Numerous loans from private collections and institutions make this survey the most important Hopper retrospective seen outside of his native New York City in over a quarter century.
Catalogue
A comprehensive catalogue accompanies the exhibition, featuring essays by the Art Institute's Judith Barter, Field-McCormick Chair of American Art; Ellen Roberts, assistant curator of American art; and other scholars, the volume is available for purchase in the Museum Shop.
Organizers
This exhibition is jointly organized by the Museum of Fine Arts, Boston, the National Gallery of Art, Washington, D.C, and the Art Institute of Chicago.
Curators
Edward Hopper was cocurated by Carol Troyen, John Moors Cabot Curator of Paintings in the Department of Art of the Americas, Museum of Fine Arts, Boston; Franklin Kelly, senior curator of American and British art, National Gallery of Art, Washington, D.C.; and Judith A. Barter, Field-McCormick Curator and Chair, Department of American Art, the Art Institute of Chicago.
At the Art Institute of Chicago, Judith A. Barter, Field-McCormick Curator and Chair, and Ellen E. Roberts, assistant curator, both in the Department of American Art, curated Edward Hopper.
Other Venues
Museum of Fine Arts, Boston, May 6–August 19, 2007
National Gallery of Art, Washington, September 16, 2007–January 21, 2008
Sponsors
Exelon Corporation is the Lead Corporate Sponsor of this exhibition.



This project was partially funded by a grant from the Illinois Department of Commerce and Economic Opportunity, Bureau of Tourism.



Terra Foundation for American Art is the Lead Foundation Sponsor as part of American Art American City, a Chicago celebration of historical American art.



Thank you to our cultural partners:
Blick Art Supply, Crate and Barrel, Millennium Park Grill, The Gage, Rhapsody, and Bennigans.
---
Edward Hopper. Early Sunday Morning, 1930. Whitney Museum of American Art, New York. Purchase, with funds from Gertrude Vanderbilt Whitney.