March 20–June 20, 2010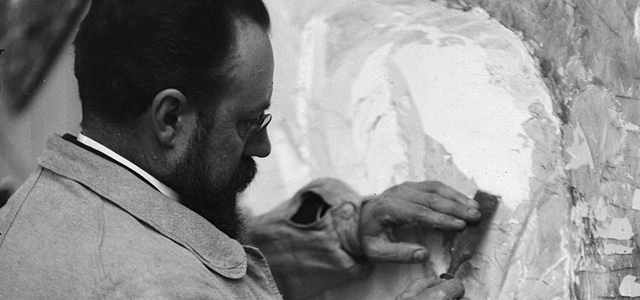 Matisse: Radical Invention, 1913–1917 examines what is without question the most innovative, momentous, and yet little-studied time in the artist's long career. Nearly 120 of his most ambitious and experimental paintings, sculptures, drawings, and prints from the period are on view. Matisse himself acknowledged the significance of these years when he identified two paintings, Bathers by a River and The Moroccans, as among his most pivotal. These monumental canvases from the collections of the Art Institute of Chicago and the Museum of Modern Art, New York, inspired the collaborative work of this exhibition and serve as major touchstones within it. This is the first exhibition to offer an in-depth investigation of Matisse's art from this time, revealing information uncovered through extensive new art-historical, archival, and technical research.
Buy tickets to the Art Institute now.
Members receive more access to Matisse. Join now.
---
Alvin Langdon Coburn. Henri Matisse working from Back (II) to Back (III) (detail), May 13, 1913. Photograph courtesy of George Eastman House, International Museum of Photography and Film, Rochester, 1979:3924:0009.