Back (I), by April 1908–fall 1909
Matisse's earliest efforts on Back began by at least April 1908, when he made this—his largest sculpture to date—in clay, using his fingers as well as wood and wire tools to produce the curvy, fleshy figure. When circumstances required him to move to a new studio, the artist cast the clay into plaster, which destroyed the original clay and inspired a new way of working. Matisse worked by carving into the hardened surface, creating a figure that became increasingly solid and rigid. He straightened the spine slightly and cut away the portions of the hair, neck, left hip, and left leg to produce more angular, sharply defined forms.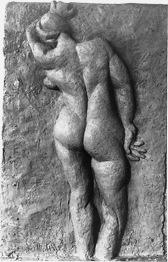 Back (I) in clay, photographed by Eugène Druet, spring 1909.
Matisse worked on Back until the late spring of 1909, keeping the clay wet in order to do so. In June 1909, he prepared to move to a new studio and prepared to cast the clay into plaster. Before doing so, he hired Eugène Druet to record it, perhaps enjoying the added flatness it took on in photographic form. This image is now the only evidence of the first stage of evolution.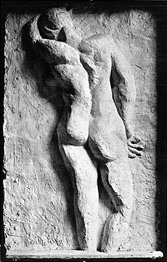 Back (I) in plaster, c. 1912. Walter Kuhn papers, Archives of American Art, Smithsonian Institution, Washington D.C.
When he returned to Back in his new studio, Matisse revised his approach: unlike the soft medium of clay, plaster required greater effort to sculpt. To alter the figure and background, the artist needed to add fresh material to an already-set, rewetted surface, and remove hardened forms with chisels, hammers, and rasps. This process allowed Matisse to embrace a new type of reworking and serial exploration. This plaster was photographed around 1912, before it was sent to an exhibition at Grafton Gallery in London.