Back (IV), c. 1931
It would be almost fifteen years before Matisse returned to his Back sculpture, starting from a plaster cast of Back (III). The artist removed anatomical details to form a monolith of three vertical masses, smoothing out and extending both sides of the relief to produce greater harmony with the ground. Back (IV) is a starkly refined, highly architectural monolith in which he effaced the struggles of its earlier states. The artist kept the plaster in his studio for the remainder of his life surrounded by examples of his last works, in which the influence of the 1913–17 period, one of most ambitious and experimental of his career, still resonates.

Dance, 1932–33. Oil on canvas. The Barnes Foundation, Merion, Penn.
In the 1930s, Matisse returned to the lessons of his years of radical invention, albeit for very different ends. He recovered the clarity of design and reprised his interest in serial images in order to achieve what he called "a certain formal perfection" in his new work. He also revived his bathers motif for a new decorative commission, the greatly simplified Dance, which is connected to Back (IV) in theme and style.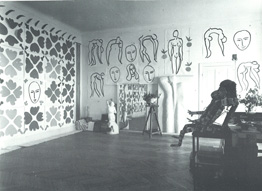 Matisse's studio at the Hôtel Régina, Nice, 1953, with his plaster Back (IV) and a number of his paper cutouts on the walls. Photograph by Hélène Adant.
The plaster of Back (IV) remained in Matisse's studio for the remainder of his life, no doubt influencing his boldly abstracted and reduced drawings, and especially his monumental paper cutouts, carved from color in a palpably physical way.