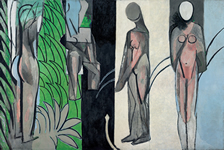 Bathers by a River, 1909–10, 1913, 1916–17
Henri Matisse considered Bathers by a River to be one of the five most pivotal works of his career. Originally the painting was a decorative, pastoral image, but over the course of several years, and under the influence of Cubism and the circumstances of World War I, Matisse radically revised his monumental canvas.

Back, 1908–09, 1911(?)–13,
1913–16, c. 1931
Matisse worked on Back over the course of 23 years, producing four states that should be seen as one sculpture that passed through several stages of evolution. The artist began his work on a plaster cast of the previous state that served as the base from which he would start his new explorations.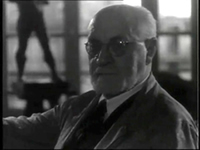 A Great French Painter, Henri Matisse, a film from 1946
In April 1946, Matisse collaborated with the director François Campaux, sending him biographical information for a documentary on his work. The 26-minute film, shot in Vence and Paris, records the Issy studio where the artist made some of the greatest works of the 1913–17 period and also explores fascinating aspects of his working processes.