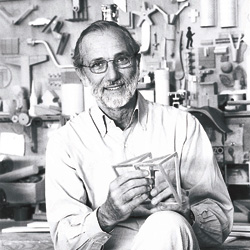 When the Art Institute decided to once again embark on a major building expansion, the museum selected Renzo Piano, director of the Renzo Piano Building Workshop, as the architect of the Modern Wing. Born into a family of contractors in Genoa, Italy, in 1937, Piano is considered the foremost museum architect of our time. Known for his projects around the world, Piano is perhaps most famous for his work with Richard Rogers in the design of the Georges Pompidou Center in Paris. He is also widely regarded for the Nasher Sculpture Center in Dallas, the High Museum of Art in Atlanta, and the California Academy of Sciences in San Francisco and has been awarded the Pritzker Prize, the American Institute of Architects 2008 Gold Medal, and other prestigious awards.
Piano believes that architecture is a form of civic responsibility. At its best, it enhances civic life with beauty, dignity, pleasure, and magic; gives form to aspirations; and contributes to environmental sustainability. As Piano himself has stated, "architecture must fly: it is made of emotions, tensions, transparency." His work in museum architecture best defines these concepts. He has taken the most rooted of the arts—architecture—and transformed it into something that soars.
The Modern Wing itself is dominated by a feeling of lightness and air. Its flying-carpet canopy hovers over the building and captures and directs light into the third-floor galleries. Its double-paned glass curtain wall conserves energy and maintains ideal gallery conditions. And the Nichols Bridgeway, an airy bridge that soars 620 feet to the third floor of the Modern Wing, connects two hubs of Chicago's civic life, the Modern Wing and Millennium Park. This quality of lightness lends a sense of tranquility to the galleries. As Piano has noted, "It is not enough for the light to be perfect," he said. "You also need calm, serenity, and even a voluptuous quality linked to contemplation of works of art."
The Art Institute is grateful to have worked with an architect of such caliber. As James Cuno, then-President and Eloise W. Martin Director stated, "Without question, Piano is the greatest museum architect of our time. His mastery of scale and proportion, dedication to natural light, and commitment to the importance of museums in the cultural and social life of urban communities is without parallel."
---
Modern Wing architect Renzo Piano.