He belongs to the generation of fine, sickly sensitive nerves that we encounter more and more frequently in the newest art.

—Andreas Aubert, Norwegian art critic and historian, 1890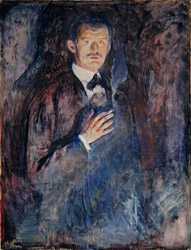 The Edvard Munch of popular imagination—a tortured, bohemian rebel who seemed almost a living version of the famous figure in The Scream—was in fact a myth, carefully constructed during Munch's lifetime by critics, historians, and the artist himself. Since then, this persona has been reinforced by our collective fascination with his many pictures of existential suffering. But there are many other sides to the artist and his work that have been eclipsed by the traditional emphasis on his supposed emotional imbalance and artistic isolation. In addition to his depictions of death and anxiety, for example, are moody, calm landscapes and pictures of bathers that celebrate the vitality of the human form in nature.
Munch's moody works gained him a reputation for mental illness from the very beginning of his career. The Norwegian art critic and historian Andreas Aubert suggested that he suffered from the psychological condition known as neurasthenia. A medical term invented by the American physician George M. Beard in 1869, neurasthenia, otherwise known as nervous exhaustion, was said to be on the rise in metropolitan centers as chronic fatigue, depression, hysteria, and weakness attacked the emotionally compromised urban body. Adopted and adapted by social commentators, the disorder was connected to decadence and degeneration and applied to the visual arts.
Far from quieting the tenor of his work to pander to such critics, Munch deliberately embraced the disturbing subject matter and the persona of the sick, socially aberrant artist. As hundreds of private letters attest, he was far from insane. But just as he experimented with certain visual motifs or painting styles, the artist adjusted his emotional pitch at precise moments in order to achieve the outcomes he desired. Munch's self-portraits, such as the brooding, blue-hued Self-Portrait in Moonlight and Self-Portrait with Cigarette, offer a rich opportunity to explore this persona in the act of construction, reminding us of the artist's central role in the process of his own mythmaking and reputation building.
---
Edvard Munch. Self-Portrait with Cigarette, 1895. The National Museum for Art, Architecture, and Design, Oslo, NG.M.00470. © 2008 The Munch Museum / The Munch-Ellingsen Group / Artists Rights Society (ARS), NY.