February 14–April 26, 2009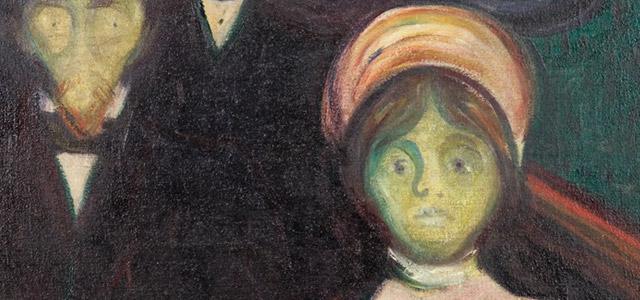 Who was the man behind The Scream and other iconic images of modern anxiety and despair? Two potent myths continue to define our understanding of Norwegian artist Edvard Munch: first, that he was mentally unstable, as these images suggest, and second, that the main influence on his distinctive style were his French and German contemporaries and not his fellow Scandinavians. Becoming Edvard Munch: Influence, Anxiety, and Myth challenges and overturns these myths. By considering Munch's paintings, prints, and drawings in relation to his European peers—including James Ensor, Vincent van Gogh, and Claude Monet—surprising connections are revealed. See the man behind the myth.
Purchase tickets now.
Members have special access.
Plan your visit.
"Brilliant" —Chicago Tribune
"Thrilling" —New York Times
---
Edvard Munch. Anxiety (detail), 1894. Munch Museum, Oslo, MMM 515. © 2008 The Munch Museum / The Munch-Ellingsen Group / Artists Rights Society (ARS), NY.