There was love and hate, longing and atonement, and beautiful dreams—and the mellow music fused with the colors. . . . One would no longer paint . . . people who read and women who knit. They should be living people who breathe and feel, suffer and love.

—Edvard Munch, 1890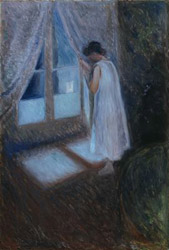 In the "St. Cloud Manifesto," his artistic credo, the young Munch voiced his desire to represent love, hate, longing, despair, and dreamy erotic connections as if they were sacred subjects. In doing so, he suggested what would become his larger strategy of subtly transforming the profane into the eternal. Moved by these goals, in the early 1890s, Munch made a series of pictures dealing with scenes of contemplation and desire acted out in tight, even claustrophobic interiors. Dark, moonlit spaces silhouetted by a cruciform window frame became one of his signature motifs at this moment. These works took up the Romantic motif of a lone figure looking out a window but infused it with an element of emotional or sexual tension. In these haunting pictures, an eerie feeling of expectation converges with the sense of looking and being looked at. While Munch's The Girl by the Window emerges from a Northern tradition of calm domestic pictures as exemplified by Harriet Backer's By Lamplight, the window motif also interested Impressionists such as Monet, who were attracted to its compositional possibilities and the way in which it allowed them to explore the play of indoor and outdoor spaces and the subject of vision itself.
---
Edvard Munch. The Girl by the Window, 1893. The Art Institute of Chicago, Searle Family Trust and Goldabelle McComb Finn endowments; Charles H. and Mary F. S. Worcester Collection, 2000.50. © 2008 The Munch Museum / The Munch-Ellingsen Group / Artists Rights Society (ARS), NY.