Munch does not have the type of imagination that, out of itself, creates new worlds, new combinations, or epics. He possesses a reproductive imagination. He is receptive. His merit lies in that he is able to feel intense passion under the impact of life. He does not recreate it.

—Sigbjørn Obstfelder, Norwegian poet, 1896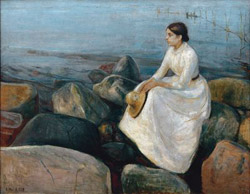 Munch rarely admitted the influence of other artists, but in truth, he was like a sponge, soaking up motifs, painting styles, technical tricks, marketing strategies, and aesthetic postures from a wide variety of contemporary Scandinavian and Continental sources. As he developed his own distinct style during the late 1880s and early 1890s, he created numerous paintings of women by the shore or reflecting upon a landscape. Although often interpreted biographically, these works emerged from a strong cultural current that equated contemplation with nature, the powerful draw of Norway's land, and the modern practice of open-air painting. In some ways, they bridged the gap between Norway and France: even as Munch embraced a trademark Northern motif, he also adapted an Impressionist approach to color, technique, and the placement of figures within natural settings.
In this sense, Munch was very much like other Norwegian artists of the moment, who were adopting the idea of a native art that depicted their country's landscapes and people and that was informed by Continental styles he had seen in his frequent, sometimes obsessive travels—yet he was not beholden to them. Munch studied in Paris and would have been intimately familiar with the work of artists such as Claude Monet. Munch's Summer Night: Inger on the Beach, probably created after his return to Norway, is clearly connected to Monet's On the Bank of the Seine, Bennecourt, which he may have seen at art dealer Paul Durand-Ruel's gallery in 1889.
---
Edvard Munch. Summer Night: Inger on the Beach, 1889. The Rasmus Meyer Collection, The Bergen Art Museum, RMS.M.240. Cat. 4.