Between eccentric and truly hideous works, I seem to see fine and quite delicate mood paintings—in dark, moonlit rooms, on lonely country paths, during quiet Norwegian summer nights—I thought I heard the breathing of quiet, melancholic and strange people who sleepwalk and, without a word, hiding their struggles in their hearts, wander over deserted, stony beaches.

—Theodor Wolff, German art critic, 1892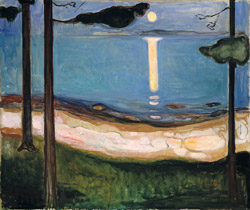 Although Munch's life and art have been interpreted almost exclusively through his images of self-torment and understood as the creations of an isolated, independent spirit, his many views of nature, which he made throughout his career, complicate this story considerably. As his contemporaries noted, the artist's serene, atmospheric paintings were inspired by trends in Continental art—such James McNeill Whistler's hazy nocturnes—but also, and more profoundly, by a distinctly Norwegian landscape tradition.
During the 1880s and 1890s, as the country's artists strove to define a style distinct from French and German models, practitioners such as Frits Thaulow in his painting Melting Snow produced serene images that focused on barren settings and employed bluish hues that evoked the feeling of pale summer nights. Such works inspired Munch's enduring fascination with the Norwegian fjord landscape and his attraction to national, romantic "blue mood" paintings as exemplified in Moonlight. Not surprisingly, Theodor Wolff and other influential critics consistently explained Munch's art as emerging from such indigenous, Northern-based approaches.
---
Edvard Munch. Moonlight,1895. The National Museum of Art, Architecture and Design, Oslo, NG.M.02815. © 2008 The Munch Museum / The Munch-Ellingsen Group / Artists Rights Society (ARS), NY.