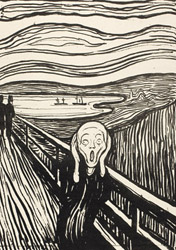 Becoming Edvard Munch: Influence, Anxiety, and Myth
February 14–April 26, 2009
Regenstein Hall
Edvard Munch's work has been frequently connected to his emotional pain and instability, as his iconic work The Scream suggests. However, when his art is considered in light of his personal diaries and letters and the writings of contemporary critics, a very different picture of the artist emerges. Contrary to the prevailing view, recent scholarship demonstrates that Munch was very much in control of his professional career, a savvy businessman keenly aware of how to manipulate the art market and shape popular opinion. Moreover, he built his art on specifically Norwegian pictorial traditions.
This rich exhibition brings together approximately 150 works, including 75 paintings and 75 works on paper by Munch and his peers, many rarely seen in the United States. It is organized around the following themes: loneliness and solitude, the street, anxiety, love and sexuality, death and dying, the bather, and nature.
Catalogue
A 232-page catalogue with 180 color illustrations accompanies the exhibition. A compelling, revisionist approach to Munch, the book explores his work and persona in relation to the art and criticism of his time.
Organizer
The exhibition is organized by the Art Institute of Chicago.
Curator
Jay A. Clarke, Associate Curator of Prints and Drawings, Art Institute of Chicago
Sponsor
This exhibition is organized by the Art Institute of Chicago. The museum is grateful to Bank of America for their support of this exhibition.



Major funding is generously provided by the Harris Family Foundation in memory of Bette and Neison Harris.
This project was partially funded by a grant from the Illinois Department of Commerce and Economic Opportunity, Bureau of Tourism.
This project is also supported by an award from the National Endowment for the Arts, which believes a great nation deserves great art.
An indemnity for this exhibition has been granted by the Federal Council on the Arts and the Humanities.
---
Edvard Munch. The Scream (detail), 1895. The Art Institute of Chicago, Clarence Buckingham Collection, 1963.282. © 2008 The Munch Museum / The Munch-Ellingsen Group / Artists Rights Society (ARS), NY.