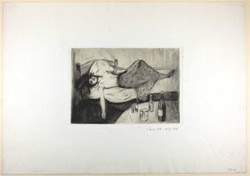 Would you like to learn more about the art and life of Edvard Munch? The curator has worked with the Ryerson librarians to put together a list of recommended books. Many of these books are available on a special shelf in the Ryerson Library. Please note the hours and access to the Ryerson library.
Exhibition Catalogue
Clarke, Jay. 2009. Becoming Edvard Munch: Influence, Myth, and Anxiety. Exh. cat. The Art Institute of Chicago/Yale University Press. Available for purchase online.
Books on Edvard Munch
Berman, Patricia G. 1993. "Body and Body Politic in Edvard Munch's Bathing Men." In The Body Imaged: The Human Form and Visual Culture since the Renaissance, edited by Kathleen Adler and Marcia Pointon, pp. 71–83. Cambridge University Press.
Berman, Patricia G., and Jane Van Nimmen. 1997. Munch and Women: Image and Myth. Exh. cat. Art Services International.
Bjerke, Øivind Storm. 1995. Edvard Munch, Harald Sohlberg: Landscapes of the Mind. Exh. cat. National Academy of Design/University Press of New England.
Cordulack, Shelley Wood. 2002. Edvard Munch and the Physiology of Symbolism. Farleigh Dickinson University Press.
Eggum, Arne, et al. 1978. Edvard Munch: Symbols and Images. Exh. cat. National Gallery of Art, Washington, D.C.
Hayward Gallery. 1986. Dreams of a Summer Night: Scandinavian Painting at the Turn of the Century. Exh. cat. Arts Council of Great Britain.
Heller, Reinhold, 1984. Munch: His Life and Work. University of Chicago Press.
Johannesen, Ina, Ingrid Reed Thomsen, and Marit Lande. 2002. Tunes in a Landscape: Fleskum; A Norwegian Artists' Colony. Exh. cat. Kisterfos Museum/Royal Norwegian Ministry of Foreign Affairs.
Lippincott, Louise. 1988. Edvard Munch: Starry Night. Exh. cat. J. Paul Getty Museum.
McShine, Kynaston, et al. 2006. Edvard Munch: The Modern Life of the Soul. Exh. cat. Museum of Modern Art, New York.
Messel, Nils. 1994. "Norwegian Impressions." In Torsten Gunnarsson et al. Impressionism and the North: Late Nineteenth-Century French Avant-Garde Art in the Nordic Countries, 1870–1920, pp. 201–25. Exh. cat. Nationalmuseum, Stockholm.
Mørstad, Erik. 2006. Edvard Munch: An Anthology. Oslo Academic Press.
Prelinger, Elizabeth. 1996. The Symbolist Prints of Edvard Munch: The Vivian and David Campbell Collection. Exh. cat. Yale University Press.
Rapetti, Rodolphe, and Arne Eggum. 1991. Munch et la France. Exh. cat. Réunion des Musées Nationaux.
Tøjner, Poul Erik. 2001. Munch in His Own Words. Prestel.
Varnedoe, Kirk. 1988. Northern Light: Nordic Art at the Turn of the Century. Yale University Press.
Woll, Gerd. 2001. Edvard Munch: The Complete Graphic Works. Munch Museum/Harry N. Abrams.
Ydstie, Ingebjørg, and Mai Britt Guleng, eds. 2008. Munch Becoming "Munch": Artistic Strategies, 1880–1892. Exh. cat. Munch Museum.
Zarobell, John. 2005. "A Year in Paris: Edvard Munch's Mermaid." Philadelphia Museum of Art Bulletin 93, pp. 6–23.
Books on Printmaking
Gascoigne, Bamber. 2004. How to Identify Prints: A Complete Guide to Manual and Mechanical Processes from Woodcut to Inkjet. 2nd ed. Thames and Hudson.
Goldman, Paul. 1988. Looking at Prints, Drawings, and Watercolours: A Guide to Technical Terms. British Museum Publications.
Griffiths, Antony. 1980. Prints and Printmaking: An Introduction to the History and Techniques. British Museum Publications Limited.
Ross, John, Clare Romano, and Tim Ross. 1972. The Complete Printmaker: Techniques, Traditions, Innovations. Rev. and ex. ed. The Free Press.
Twyman, Michael. 1970. Lithography 1800–1850: The Techniques of Drawing on Stone in England and France and their Application in Works of Topography. Oxford University Press.
---
Edvard Munch. The Day After, 1894. Clarence Buckingham Collection, 1963.1143.