One clear, sunny day I heard the music coming down Karl Johan—it filled my soul with celebration. The spring—the light—the music—melted together into a quivering happiness. . . . I painted the picture and let the colors quiver in time to the rhythm of the music.

—Edvard Munch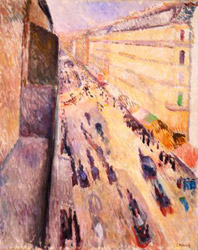 There is no question that Munch's experience of French vanguard painting in Paris and elsewhere had a transforming effect on his subject matter, palette, handling of paint, and approach to subjectivity. One major source of inspiration was the wide array of street images produced by Impressionists, such as Claude Monet's The Boulevard des Capucines. Before his Parisian trips of 1885 and 1889–91, the artist had created very few urban views. However, between 1889 and 1892, he made an increasing number of pictures focusing on the bustling avenues of Paris and Kristiania, experimenting with a variety of painting styles, chromatic effects, and perspective views, as if trying each one on for size.
The city street as a subject for modern art was almost without precedent in Norway. Dense urban centers were few, and Norwegians, with their agrarian roots, favored representations of peasants and landscapes, as did tourists, whose trade supported many painters. In France, however, the street and the crowd were popular Impressionist themes, occupying an important place in the public consciousness. The wide Parisian boulevards and the panoramic views they made possible no doubt affected Munch's perception of urban spaces. The artist in many ways introduced the Impressionist cityscape to Norway, and his street scenes of 1890 and 1891 contain all the hallmarks of his emerging style, but infused with a dose of French experimentation.
---
Edvard Munch. Rue de Rivoli, 1891. Harvard Art Museum, Fogg Art Museum, gift of Rudolf Serkin, 1936.153. © 2008 The Munch Museum / The Munch-Ellingsen Group / Artists Rights Society (ARS), NY.