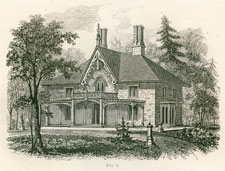 September 6–November 1, 2011
Ryerson & Burnham Libraries
The builders' manuals of the 18th century were the "how-to" manuals of their era. These practical guides for builders, primarily carpenters, were the important resources for construction techniques and design details, descendants in a long history of published manuals. Particularly in England the guides disseminated the designs of the 16th century Italian architect Andrea Palladio and largely shaped the architecture in the American colonies. They consistently emphasized the five orders—Tuscan, Doric, Ionic, Corinthian and Composite—and classical details. By the mid-18th century many of the earliest manuals in the colonies were imported from Britain; later, select British titles appeared in American editions.
---
From Cottage Residences... 1st ed. New York; London: Wiley & Putnam, 1842. The Art Institute of Chicago, Ryerson & Burnham Libraries; The Art Institute of Chicago.