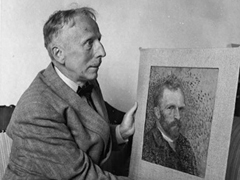 September 10–November 18, 2013
Ryerson & Burnham Libraries
In 1947, while preparing for a Vincent van Gogh exhibition at the museum, Art Institute Director Daniel Catton Rich and Public Relations Counsel Peter Pollack visited Van Gogh's nephew, Vincent Willem van Gogh, to ask him for the loan of many of his uncle's paintings for the show. A close friendship between the men developed, and the three of them set out to visit most of the sites captured by the famous artist in his fabulous paintings. These site visits were documented in photographs taken by Pollack, which now reside in the Art Institute's archives. This exhibition presents some of these historic photographs paired with illustrations of Van Gogh's works.
---
Peter Pollack. The Nephew Holding his Uncle's Self-Portrait. 1949. Institutional Archives of the Art Institute of Chicago