July 31–October 23, 2011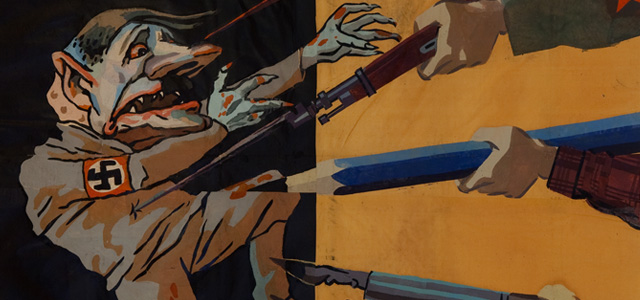 Seventy years ago, in the immediate aftermath of the German invasion of the Soviet Union, a group of artists and writers in Moscow joined forces under the auspices of the TASS News Agency to help reassure and rouse the Soviet citizenry by producing large-scale posters—TASS Windows. Despite the brutal regime of Joseph Stalin, creativity flourished among these diverse artists and writers as they attempted to find purpose while working in and for a totalitarian state. Producing a poster design for nearly every day of the war with a labor-intensive technical virtuosity previously unheard of in poster production, these artists committed themselves to the defense of the motherland. In collaboration with the Ne boltai! Collection of 20th-century propaganda, Windows on the War marks the first time these enormous handmade posters have been displayed in the United States since World War II, bringing to the fore many Soviet artists little known in this country.
---
Nikolai Fedorovich Denisovskii and Pavel Petrovich Sokolov-Skalia. Our One Thousandth Blow (detail), 1944. Gift of the USSR Society for Cultural Relations with Foreign Countries.