Society Cutups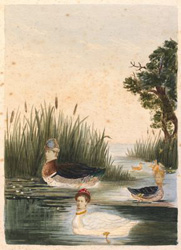 Although collage is commonly understood as a 20th-century medium, aristocratic Victorian women were already experimenting with photocollage. They combined the traditional arts of drawing and painting with the new art of photography, taking advantage of this mechanically reproducible medium. Wielding scissors, paste pot, and paintbrush—along with no small amount of humor—aristocratic album makers changed the original meanings of the pictures with which they played.
The resulting albums represent the collaborative efforts of family and friends, often integrating the contributions of several amateur artists along with those of the numerous commercial portrait photographers whose images were included. Photocollage albums thus complicate conventional notions of authorship or a discrete maker. Moreover, they force us to rethink the concept of the artist in the first place, from one who invents completely to one who amasses, rearranges, and embellishes source materials. For album makers, such materials came from the everyday world—found, donated, or purchased, and made with or without artistic intent. It would become commonplace in the 20th century for an artist to be a collector, consumer, assembler, and compiler, but it is striking that this impulse was already in place in the 1860s and 1870s. Photocollage challenged some of the conventions and latent assumptions about photography just one generation after its invention, overturning the perception of the medium as truthful, faithful to nature, and revealing of character. At a transformational moment on the verge of modernity, Victorian photocollage paved the way for the future avant-garde potential of both photography and collage.
---
Kate Edith Gough. Untitled page from the Gough Album, late 1870s. V and A Images/Victoria and Albert Museum, London.