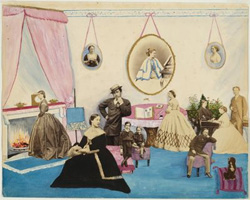 When album makers combined the facts of photography with the fictions of painting, they created a new kind of representation. Photocollage allowed—even encouraged—them to expand the limitations of photography to incorporate fantasy, dreamscapes, whimsy, and humor. Indeed, this was all the more effective because of the power a photographic portrait had to anchor a specific sitter in reality. Photocollage also provided a way to depict scenes that would have been technically impossible for photography at the time.
In this regard, photocollage changed the rules of photography. Instead of standing intact as images that referred to a person in a specific time and place, photographic portraits took on new meanings in newly invented contexts. Rather than showing a single point of view, photocollage combined numerous images made from multiple perspectives, and where photographs should have provided truthful records, albums gave rise to fantasy.
---
Mary Georgiana Caroline, Lady Filmer. Untitled loose page from the Filmer Album, mid-1860s. Paul F. Walter.