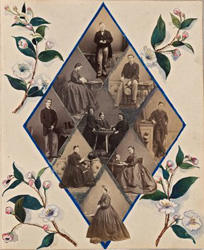 The making and viewing of aristocratic albums cannot be fully understood apart from the context of social class in Victorian England. The "Upper Ten Thousand," as the English aristocracy and landed gentry were commonly called, controlled both politics and society; social events were, in fact, often occasions for furthering careers or political agendas and strengthening families' power. Society revolved around the London "season" during the late spring and summer, and rural country-house life or continental travel for much of the rest of the year.
Album making was but one aspect of the complicated, socially demanding roles of upper-class Victorian women, who functioned as the gatekeepers to society, hosting parties, making calls, and facilitating introductions. The broad range of albums popular among women in the 19th century attests to their varied meanings and functions, from presentation albums of artistically accomplished ladies, to the more common albums of verses and sketches that displayed contributions from acquaintances, and albums of photographs filled with portraits of family members and friends. For talented amateur artists, albums were a place of creative exploration throughout the 19th century, as well as a means of defining feminine roles and values.
---
Frances Elizabeth, Viscountess Jocelyn. "Diamond Shape with Nine Studio Portraits of the Palmerston Family and a Painted Cherry Blossom," from the Jocelyn Album, 1860s.