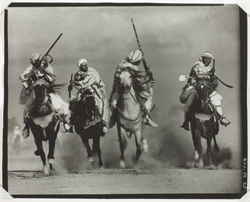 Irving Penn began using a 35mm Leica camera in 1950 during his travel assignments for Vogue. Although Leica and other camera designers had been producing small, metal single-lens reflex cameras that used 35mm film since the mid-1920s, they did not gain popularity until after World War II.
The 35mm camera features a modular body that can be used with interchangeable lenses and other accessories such as rangefinders and viewfinders. When Penn traveled to France, Spain, and Morocco in 1950, he frequently used a telephoto lens with the Leica in order to capture distant images. In the late 1950s, Penn converted his studio equipment from Leica to a Nikon system, essentially trading the rangefinder-style Leica camera for the newer single-lens reflex design of the Nikon. Penn recalls:
In a burst of romantic passion for this new apparatus (forgetting gratitude to the Leica and with even a certain amount of disloyalty) I diverted myself of all our studios [sic] elaborate and superb Leica equipment, taking a terrible financial beating in the process, not finding a panacea and exchanging one set of headaches for another.1
While it was the telephoto lens that initially drew him to the 35mm camera, Penn came to appreciate the precision he could achieve with the various adjustments available. Because of the small film size, 35mm cameras take incredibly sharp pictures and offer a higher level of control over depth of field compared to twin-lens reflex cameras such as the Rolleiflex. The small format 35mm film, however, necessitated use of a photographic enlarger when printing the negatives—a shift from the contact printing process Penn was able to employ with large format film—yet the use of an enlarger opened a new world of possibilities in the manipulation of images.
---
1 "There are Two Other Cameras" essay on 35 mm cameras, n.d. in Notebook A12 untitled, n.d. (Box.FF 185.8)
Irving Penn. Berber Horsemen, A Fantasia, Morocco, 1951. Gift of Irving Penn, 1996.252.