Artist Biography: Irving Penn

Irving Penn (1917–2009) was one of the leading photographers of the 20th century. After studying design under Alexey Brodovitch at the Philadelphia Museum School of Industrial Art (now part of the University of the Arts in Philadelphia), Penn worked as a graphic artist in New York, creating illustrations for Harper's Bazaar. After purchasing a Rolleiflex camera and experimenting with it for a while, he spent a year dedicated to painting, traveling through the southern United States and living in Mexico in 1942. Back in New York the next year, Penn was hired as Alexander Liberman's assistant at Vogue, beginning a lifelong association with Liberman and Condé Nast Publications. His first cover appeared on the October 1943 issue.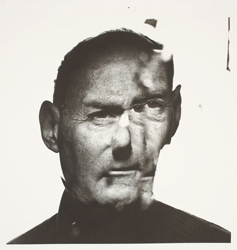 In 1944, Penn joined the American Field Service as an ambulance driver. He continued his association with Vogue by submitting articles from abroad that incorporated street photographs as well as portraits taken around the world. After his return to the United States in 1946, he regularly contributed to the magazine, making mainly fashion and portrait photographs. His oeuvre also encompassed ethnographic studies, still lifes, nudes, and advertising work. Many of these subjects were undertaken with the support of Condé Nast.
In addition to photographing, Penn explored various printing processes, from gelatin silver and platinum/palladium to chromogenic color and silver dye-bleach. His photographs were first shown in an art museum as part of the exhibition In and Out of Focus (1948) at the Museum of Modern Art in New York; group and solo exhibitions have followed regularly ever since. In addition to his work for advertising and magazines, Penn undertook many personal projects including series of nudes, cigarettes, street trash, and memento mori objects.
In the mid-1980s, Penn returned to his artistic roots in drawing and painting, "picking up threads dropped forty-some years before".1 As in his photography, he experimented with form, color, and the physical properties of the media he employed. In 1999 Penn published Drawings, which illustrated studies, some later used to produce photographs, as well as finished paintings.
Penn authored a number of additional publications during his long and varied career. They include Moments Preserved (1960), Worlds in a Small Room (1974), Flowers (1980), Passage: A Work Record (1991), and A Notebook at Random (2004). Other books are collaborative efforts, such as Inventive Paris Clothes (1977) with Diana Vreeland and a series of books with the designer Issey Miyake featuring Miyake's clothes.
—Jennifer Jankauskas (edited and expanded by Natasha Derrickson)
To learn more about Penn's life and work, explore our interactive timeline.
---
1 Irving Penn. Passage: A Work Record. Alfred A. Knopf, New York, 1991, p. 266.
Irving Penn. Irving Penn: In a Cracked Mirror (Self Portrait) (A), New York, 1986. Gift of Irving Penn, 1996.221.