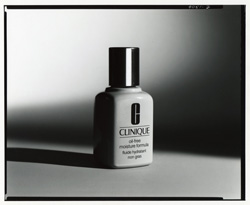 By 1950, Irving Penn had established a successful career at Vogue magazine through a variety of projects, including still lifes, fashion, portraiture, and travel photography, and this work led him to a career in advertising. Penn's photographs were exhibited at the New York Art Director's Club in 1948, and, following an award in 1951 from the Art Directors' Club for his work on an advertisement for Vogue and another in 1952 for his still life Two Liqueurs (1951), Penn began doing freelance photographs for advertisements in 1952. He opened the Irving Penn Studio in 1953 as a means of expanding his commercial pursuits, and maintained contacts in advertising photography for the rest of his career. In doing this, Penn was taking advantage of a well-established custom whereby advertising agencies commissioned magazine photographers to photograph their setups. Reciprocally, Penn's commercial endeavors appear to have laid the basis for several series of still lifes that Penn worked on later in his career. At the same time, the goals of his two professional obligations were quite different. Penn's editorial photographs were intended to surprise and delight the magazine reader, while his advertising photographs were intended to inflame their desire for a product.
One of the first major advertising campaigns Penn undertook was for Jello-O Pudding and Pie Filling. He met with an advertising executive over an "elegant lunch" and left with the feeling that he would be photographing something masculine and mechanical—like blast furnaces—but was surprised to find out they wanted him to work on a homely dessert offering.1 Penn created a series of award-winning still life photographs that showed the various stages of preparation, used casual kitchen tools instead of formal ones, and depicted the product in a manner that invited the reader of the advertisement to enjoy making and serving it. Penn's advertisements for Jell-O drew viewers in and invited them to complete the scene in their own lives. An editorial still life Penn had published in Vogue in 1953 of red, white, and rosé wines being poured into glasses creates a similar effect, and this photograph that began as an illustration to a story was eventually reused in an advertisement. In the Jell-O advertisements, Penn also used opened packaging in the photograph to act as a name brand identifier, resulting in a tight and uncluttered composition that did not require extensive copy to convey a message to consumers. Penn would use these same techniques in advertising photographs for other food brands, and additionally liquor brands, for which he created still-life arrangements that focused on the bottle's design and label.
Penn received the opportunity to photograph something more masculine in 1954 when he was hired to work on an advertising campaign for Plymouth automobiles. Before this project, he had never photographed a car, and after three years of working for the company he swore he would never photograph another. Penn placed lights under the body of the car for dramatic effect, then photographed the car from different angles, focusing on the edges and panels. By keeping the background dark while creating a glow from beneath the vehicle, Penn suggested a futuristic technology and design dwelling within the machine. "The result was admired and treated as brilliant innovation," he later recalled: "'Lighting the car upside down' it was called. For the remainder of the two years of the advertising campaign I found myself a prisoner of this tedious way of working."2
Penn regularly used techniques of fashion photography in his advertising work. During the 1960s, for example, Penn made a series of photographs for Modess, a brand of feminine hygiene products that used chaste advertisements of models wearing couture gowns to suggest that their product was as "whisper soft" as the garments. Penn also did work for luxury linen brands, and photographed models wearing bed sheets and bath towels draped around their bodies as if they were fancy evening dresses. This crossover between fashion and advertising also accommodated an essential conservatism in the advertising industry, which hesitated to take risks. In his notebooks, Penn affirmed advertising executives' resistance to experiment; firms wanted a near guarantee of success before investing in a campaign.
Penn was often mentioned in trade magazines during the 1950s as an exemplar in the field. In a 1959 publication titled The Art Director at Work: How 15 Medal-Winning Exhibits Were Conceived and Executed, an art director described struggling with the promotion of a brand of instant decaffeinated coffee. After consulting with Penn, they were left with a simple and successful campaign design that featured the portrait of a man who had a demanding job but drank the decaffeinated coffee rather than regular coffee. The advertising copy was brief and situated below the portrait, with a small image of the product packaging.3
Perhaps Penn's most memorable advertising photographs were made for the cosmetics firm Clinique, which was introduced by its parent company, Estée Lauder, in 1968. Penn used still life photography in his Clinique advertisements, employing a spare and elegant approach to the brand from its inception. Penn would photograph single products or arrange them in simple group compositions, monumentalizing the simple product containers by reducing background elements and emphasizing recognition of the brand's logo: a large silver "C". Jürgen Muller argues that Penn's advertising still lifes for Clinique "may be seen as variations on a theme, purity and beauty as essentials are their consistent message."4 Some of Penn's advertisements for Clinique carried brief slogans, but Penn also did an entire series of "silent ads" that featured no text at all save for the information displayed on the product's label. Penn worked in a similar vein for other cosmetics brands, as can be seen in 3 Chanel Products, New York (1968), in which Penn arranged the items on a thin metal shelf and was allowed to leave the packaging as the only text.
Archive Information
Series IV: Advertising Photography in the Paper Archive consists of business records, correspondence, notes, sketches, tearsheets, and proofs dealing with commissioned advertising work. Also includes various trade publications such as Art Director and Studio News describing Penn's award-winning advertising work.
Series IV: Advertising in the Photographic Archive consists of black-and-white contact sheets, test prints, copy prints and negatives as well as color transparencies relating to advertising work Penn did for Jell-O, DeBeers, Ansco, Modess, Chanel, Fujinon, Clinique, and others.
---
1 "Still–Life," n.d., in notebook C8 "General Notes Important" (Box 185.10).
2 Irving Penn. Passage: A Work Record. Knopf, New York, 1991, p. 122.
3 Arthur Hawkins. The Art Director at Work: How 15 Medal-Winning Exhibits Were Conceived and Executed. New York, Visual Communication Books, Hasting House, 1959, 16–17.
4 Jürgen Muller, "Inside Photography – Some Remarks on Irving Penn's Still Lifes" in Irving Penn. Objects for the Printed Page. Essen, Museum Folkwang, 2001, p. 108.
Irving Penn. Clinique, bottle of Oil-Free Moisture Formula, n.d. Gift of Irving Penn, 2004.370.