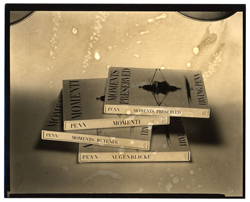 Given the long, prolific career that Irving Penn enjoyed, as well as the fact that many of his images first appeared in contexts over which he did not have ultimate control1, it is not surprising that he came to publish his own reflections on his work. Among the many book projects initiated by Penn are several that survey his career or cull work in specific genres, frequently accompanied by the artist's commentary. (Exhibition catalogues and publishing ventures initiated by others fall into a separate category.) Penn's habit of commenting on his work began modestly, with his contribution to a 1951 book edited by Alexander Liberman The Art and Technique of Color Photography, in which statements from Condé Nast Publications staff photographers appeared alongside technical information about their work and equipment. Penn was always interested in the technical aspects of photography—cameras, lenses, composition, and printmaking—and noted in the volume that he most frequently used a Rolleiflex or one of two Deardorff view cameras in his early commercial work.2 Penn remarked here simply that "[I]f the camera always tells the truth, the color camera must always tell the absolute truth."3
Penn published his first independent book, Moments Preserved, in 1960. In the introduction, the Vogue art director, Alexander Liberman, discusses the importance of the photographic book to understanding an artist's work:
A collection of one photographer's work is an unquestionable record not only of the exterior world, but of his sensitivity and inner reaction to the world. His collected photographs are truly the reflection of his mind's eye. It is this reflection, or second image, superimposed on every photograph that gives his photography its richness, and this second image that gives us a composite picture of the man's creative soul. It is revealed fully only in an accumulation of pictures by the same artist.4
Moments Preserved was such an accumulation, for in it Penn surveyed photographs he had made during his first seventeen years of assignments for Vogue. He brought his keen attention to detail and former experience as an art director to his design and his work with the publisher and printer to produce a volume of exacting specifications. The publication featured a slipcase, a color cover, and images in color and in black-and-white, grouped by location. Penn conceived the essays and captions, in collaboration with writer Rosemary Blackmon, to provide context for his own work, adding information about camera techniques, his experience with a particular person or country, his inspiration, and other background information.5
Penn published two further survey books in later decades that include examples of his personal photographic projects, drawings or watercolors, and commercial photographs. As with Moments Preserved, these surveys contain captions and descriptions written by Penn—though to a far lesser degree—and essentially become what art historian Sarah Greenough describes as a "scrapbook" of his work.6 Passage: A Work Record (1991) presents a chronological view of his career, necessarily shifting among photographs of different genres and various geographic locations, while A Notebook at Random (2004) mixes photographs from different times, places, and media to show connections or juxtapositions in his work throughout his career.
After Moments Preserved, however, Penn next turned to his ethnographic work, publishing Worlds in a Small Room (1974) as a means to assemble portrait images from his magazine travel assignments under the unifying theme of his signature "neutral" studio space. Penn organized the book into ten sections by location. Additionally, he wrote the introductory essay and all texts and captions, giving his understanding of his ethnographic portraiture and experiences while traveling. Thirty years later, Penn published Photographs of Dahomey (2004), which features his ethnographic portraits from a 1967 trip to that city along with photographs of statues dedicated to the god Legba. Penn's text about that trip, originally in Worlds in a Small Room, is reprinted here along with writing by other authors.
Penn's next inspiration for a book on a single genre of his photography came after visiting a 1973/74 exhibit at the Metropolitan Museum of Art, The 10s, 20s, 30s, by Vogue editor Diana Vreeland, which featured early 20th-century haute couture. Penn related:
I felt a thrill I had not as a fashion photographer known before…. For personal pleasure I wanted to study these clothes on the ground glass of a camera, and as a practical matter the thought of making a book of the resulting pictures came to mind.7
Building on their professional relationship, Penn collaborated with Vreeland on the book Inventive Paris Clothes, for which she wrote the text and captions, with each section devoted to a different designer. Atypically for Penn, the garments were photographed on mannequins, allowing hotter lights and longer exposures than live models could not have tolerated. The museum exhibit displays and mannequins became an inspiration, drawing a link between fashion and still life photography, something that Penn had played with in his early fashion photographs.
In 1983, Penn photographed new fashion designs by Issey Miyake on assignment for Vogue magazine, and after this initial assignment, the two developed a close professional relationship that was rooted in the affinity between their two arts of fashion and photography. Miyake noted of their relationship:
Through his eyes Penn-san reinterprets the clothes, gives them new breath, and presents them to me from a new vantage point—one that I may not have been aware of, but had been subconsciously trying to capture. Without Penn-san's guidance, I probably could not have continued to find new themes with which to challenge myself, nor could I have arrived at new solutions.8
The profuse photographic record of their creative relationship led to the publication of Irving Penn Regards the Work of Issey Miyake (1999), with an introduction by Mark Holborn that provides context about Miyake's work and his design studio. Penn mainly photographed Miyake's designs on live models, posed in angular stances that double the geometric structure and materiality of the garments, although several still life photographs were used to the same effect.
Penn published several other picture books with little or no commentary. Flowers (1980) featured photographs taken for Vogue magazine from 1967 to 1973, with the primary text relaying the sources of the flowers photographed. In 2001 Penn published Still Life, which shows examples of Penn's commercial and personal still life projects throughout his entire career, with the majority of the photographs from the 1970s and after. An introduction by curator John Szarkowski situates Penn's career within the history of still life photography.
Penn, who began his artistic career with plans of becoming a painter, never fully abandoned painting and drawing when he became a commercial photographer, turning to sketches in preparation for or response to his photographs. In 1999 Penn published two books of drawings: The Astronomers Plan a Voyage to Earth presents a series of drawings made from 1939 to 1942 with accompanying text written in 1997. Drawings provides an overview of Penn's work in other media, including examples of his stand-alone drawings, preparation drawings, and drawings printed on photographic paper, providing a counterpoint to his photographic career.
Archive Information
Series XIV: Book Projects in the Paper Archive is divided into nine sub-series that contains correspondence, research materials, press and publicity material, and some contracts. The nine sub-series are The Art and Technique of Color Photography; Moments Preserved; Worlds in a Small Room; Inventive Paris Clothes; British Vogue's History of Fashion Photography; Flowers; Issey Miyake; and Passage. The section on Moments Preserved also includes copies of the original photographs complete with notes regarding images.
Series VII: Book Projects in the Photographic Archive includes copy prints of various images Penn was considering including in possible unrealized book projects on technical aspects of photography and travel photography. In addition, a number of photostats in contact sheet format for Worlds in a Small Room are included.
---
1 This is in contrast to the publication of his work in Vogue, since there he had no control over the final selection of image or its placement in the publication.
2 Around 1965, Penn prepared notes and images to be used in a textbook on photography for the Famous Photographers School; however, the book was never published.
3 Irving Penn. The Art and Technique of Color Photography, ed. Alexander Liberman.
4 Alexander Liberman in Irving Penn. Moments Preserved. New York: Simon and Schuster, 1960, p. 3.
5 Shortly after Moments Preserved was published, Penn began planning another book tentatively titled Seven Visits that would feature photographs from his magazine travel assignments throughout Europe and Japan; however, the project never materialized.
6 Sarah Greenough. Irving Penn Platinum Prints. Yale University Press, New Haven: 2005, p. 14.
7 Irving Penn. Inventive Paris Clothes 1909–1939. New York: The Viking Press, 1977.
8 Issey Miyake in Irving Penn: A Career in Photography. The Art Institute of Chicago in association with Bulfinch Press, Boston, 1997, p. 46–47.
Irving Penn. Moments Preserved, book jackets in four languages, 1960. Gift of Irving Penn, 1997.37.9.