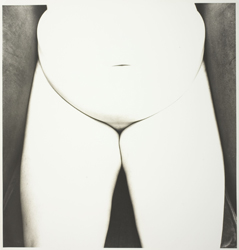 In the summer of 1949, Irving Penn began his first major personal photographic artistic undertaking. He later described his method for the project:
During the year 1949, I worked—whenever there was time between assignments [for Vogue]—photographing the nude female body. For subjects I turned to women who worked as professional models for painters and sculptors; most were soft and fleshy, some very heavy. But more important, they were comfortable with their bodies. It helped that their personalities were generally relaxed and uncomplaining, and that they were not apprehensive of close examination by the camera. The relationship between us was professional, without a hint of sexual response. Anything else would have made pictures like these impossible.1
Through January 1950, Penn would photograph hundreds of rolls of film with his Rolleiflex camera, exploring the variations and abstractions of the human form within the tight parameters of its small viewfinder.
Initially, Penn photographed slim models in poses where they twisted or contorted their bodies when lying down or standing against walls. He soon switched, however, to photographing the larger, heavier models who figured in the majority of the final printed images. As opposed to the svelte professional models he frequently photographed for Vogue magazine, Penn deemed these models "a more esoteric taste." He found that their abundant bodies filled the frame with a satisfying expression of mass and form, the undulating folds of their figures resting weightily on the surfaces on which they posed. Penn also chemically altered the prints to create ethereal images that blur fine detail and flatten the undulating curves into planes of light and shadow. In an undated notebook entry, Penn recalled his objective:
Series of nudes and their printing. Regaining of interest in the print as a reason for making pictures. The picture as material for the print as object. Attempt to undo realism of the photographic print. The print bleached and redeveloped.3
The contact sheets of the full sittings from the series reveal that Penn experimented with different models, poses, and props. The two most predominant props are an armchair and a robe, and in a technique similar to the corner device Penn had employed in earlier portraits, the nude models were able to interact with the items in different ways depending on their personalities. For example, the model in Nude No. 92 (1949/50) sits in the armchair with her stomach pushing out as a result of her upright posture, which creates curved lines that contrast with the flatness of her thighs. Penn's printing method accentuates this contrast by brightening the white fleshy areas against the Y-shaped lines created where the model's round stomach meets her thighs.
From these contact sheets, Penn selected an initial group of 138 negatives to turn into gelatin silver prints, with another fourteen negatives selected during the 1960s through the 1980s to print in platinum and other metals. Finally, Penn returned to the series in 2002, printing an additional six works in gelatin silver. All remained largely unseen and unpublished until they debuted in a 1980 exhibit titled Earthly Bodies at Marlborough Gallery in New York City.4 The complicated printing process he used marks a direct reaction against the renowned clarity of his magazine photographs. In October 1950, several months after completing the project, Penn participated in a symposium at the Museum of Modern Art. There he discussed his idea of modern photography, arguing that "for the modern photographer the end product of his efforts is the printed page, not the photographic print."5 Despite a successful career in commercial photography, Penn never abandoned his personal interest in the photographic print as an object unto itself.
Nudes for Vogue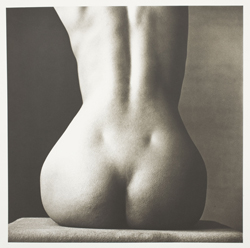 Vogue did extend Penn's total production of nudes, as the magazine occasionally commissioned him to illustrate articles about health and cosmetics. In 1978, Penn was commissioned to create a series of nudes to accompany an article about the benefits of soap and skin care. These black-and-white photographs of a model bathing with a sea sponge in an old-fashioned tub used a combination of modesty and sensuality to complement the editorial message about soap's naturally cleansing properties. During the 1990s, Penn made several nude and semi-nude black-and-white portraits of supermodels6 and also made several nude photographs of truncated bodies. For example, Sitting Nude Rear, New York (1993) shows the trim back muscles of an anonymous female model whose head does not appear in the photograph. In contrast with Penn's early, personal studies, these later commercial nudes emphasize the flowing lines of toned body parts, rather than the mass and shape of larger, fleshy bodies.
Archive Information
Series II: Nude Photography in the Photographic Archive primarily consists of mounted 2-1/4 inch black-and-white contact prints from which Penn chose the final negatives for print. Also includes some 8 x 10 inch black-and-white negatives and test prints for the 1949/50 sittings as well as later projects.
---
1 Irving Penn. Passage: A Work Record. New York: Alfred A. Knopf, 1991, p. 66.
2 "Eroticism" notes, n.d., in notebook A1 titled, "Irving Penn", n.d. (Box.FF 185.5).
3 Untitled notes, n.d. in notebook A1 titled, "Irving Penn", n.d. (Box.FF 185.5).
4 See Hambourg, Earthly Bodies, p. 20, note 1 and p. 92 for additional information on the images' publication and printing.
5 Irving Penn, speech in symposium titled "What is Modern Photography?" at the Museum of Modern Art, New York, Oct. 20, 1950, recording, WNYC Radio Archive Collection.
6 For the Vogue article "Nobody's Perfect", published in September 1994, Penn photographed five supermodels—Naomi Campbell, Cindy Crawford, Christy Turlington, Linda Evangelista, and Nadja Auermann—to accompany an essay about the models' perception of their own bodies and the physical characteristics they cherish or loathe.
Irving Penn. Nude No. 92, New York, 1949/50. Gift of Irving Penn, 1996.282.
Irving Penn. Sitting Nude Rear, New York, 1993. Gift of Irving Penn, 1996.291.