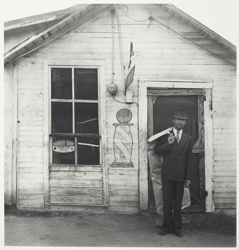 In 1938, Irving Penn used money he had earned working for Alexey Brodovitch at Harper's Bazaar to purchase his first camera, a Rolleiflex. In his free time, he used the Rolleiflex to explore the streets of New York City, taking "camera notes"1 of the street scenes and peculiar window displays. Penn also brought the Rolleiflex on his travels through the Southern United States to Mexico, where he went to paint in 1942.
The Rolleiflex is a twin-lens reflex camera with a rigid metal body that was introduced in 1929. This medium-format camera was designed with two separate compartments stacked one on top of the other, and Penn would have viewed the image through a ground-glass screen at the top of the camera, while the lens in the bottom compartment captured the picture. The Rolleiflex typically takes 120 roll film and produces a 6 x 6 centimeter square image. The Rolleiflex is a relatively simple camera, with only later models employing more complex components such as a built-in light meter or interchangeable viewfinders. It is this simplicity, however—combined with its compact size and sturdy construction—that Penn favored.
Penn used a Rolleiflex in many artistic and commercial projects throughout his career, including his 1948 Cuzco photographs, his 1949/50 nudes project, his early outdoor fashion photographs for Vogue, and during his remote-location ethnographic assignments in the late 1960s.
---
1 Irving Penn. Passage: A Work Record. Alfred A. Knopf, New York, 1991, p. 10.
Irving Penn. Man with Clothing Bag, American South, 1941. Gift of Irving Penn, 1996.187.